Brandon Marshall has been everything that general manager Phil Emery imagined the star receiver would be when the Bears traded for the three-time Pro Bowler in March, and more.
After leading the Bears to back-to-back wins with dominant performances against the Cowboys and Jaguars, Marshall ranks fourth among NFL receivers with 496 yards, seventh with 35 catches and is tied for second with 11 receptions on third down.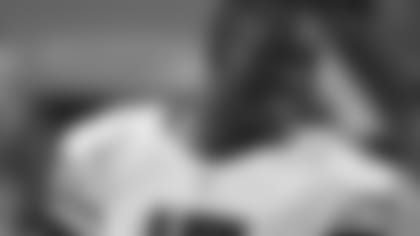 Brandon Marshall was all smiles Sunday in Jacksonville after catching 12 passes for 144 yards including a 24-yard touchdown.
Marshall is on pace to shatter single-season Bears records with 112 catches and 1,587 yards. But his value to the team extends beyond what appears on the stat sheet.
Asked if Marshall has been as good as advertised, Emery said: "I think that's evident just through his play and his numbers and statistics. [But] way beyond what he's provided for us in terms of offensive firepower is the person that Brandon is, the leadership that he's provided on our field.
"He speaks of professionalism. What he does on the practice field, I admire and I look up to. It tells [other players] that 'in my role for the team that I need to continually raise my level.'
"If you watch him on a daily basis on what he does as a professional—going out there to improve himself and to make others around him better—is a sight to see."
Dominant D: Emery has also been impressed with a Bears defense that ranks No. 1 in the NFL in the Aikman Ratings, which combine several key statistical categories.
The unit has fueled the team's current three-game winning streak, scoring five touchdowns while allowing only two TDs in helping the Bears outscore the Rams, Cowboys and Jaguars 98-27.
"I feel real good about our veteran leadership," Emery said. "I feel good about the young players that have been added to that mix; some that have been here and are developing players, some of the rookies with Shea [McClellin]. I feel very good about the group overall and its progress."
In the last two wins, cornerback Charles Tillman and linebacker Lance Briggs became the first teammates in NFL history to return interceptions for touchdowns in back-to-back games.
"It's been fun to watch those older veteran players," Emery said. "I was kind of thinking about if that's what older veteran players play like, sign me up for some more."
Life of Brian: Middle linebacker Brian Urlacher continues to rebound from a knee injury that forced him to miss the entire offseason program and all four preseason games.
"What I see on the field is a great communicator," Emery said of Urlacher. "I definitely sense that having gone through the preseason when he is not in there and when he is there, this guy has a tremendous role in terms of communicating our defense and making it all fit together.  
"He's doing an outstanding job with that, and I think that's a big part of why we're playing well. From a physical aspect, I do see a guy that has gotten better each week working back through the injury."
Hot corner: Emery is impressed with how Tim Jennings has responded to constructive criticism from coaches who wanted to see him make more plays on the ball.
The veteran cornerback was named NFC Defensive Player of the Month for September after recording a league-leading and career-high four interceptions.
"I can't say enough about somebody like Tim Jennings and the year that he's having and the self-improvement that he's made," Emery said. "He's taken himself to task and he keeps pushing his level and keeps getting better."
Long way to go: Emery is certainly pleased that the Bears are tied for first place in the NFC North after a 4-1 start, but he's not getting his finger measured for a Super Bowl ring just yet.
"It's all about where we're at in this process at the end of the process, at the end of the season where our team is at and what progress it's made toward our goal," Emery said. "But has our team played well? Yes. Do we feel good about the position that we've put ourselves in moving forward? Absolutely."