BOURBONNAIS, Ill. — After shattering single-season Bears records with 118 receptions for 1,508 yards in 2012, receiver Brandon Marshall won't mind sharing the workload this year.
"That's fine, as long as we're winning," Marshall said at training camp. "That's probably the reason I got hurt last year; I had so many receptions. So I'm actually looking forward to passing some along to Martellus [Bennett] and Alshon [Jeffery]. I had 118 and the next guy had [44]. That's a problem."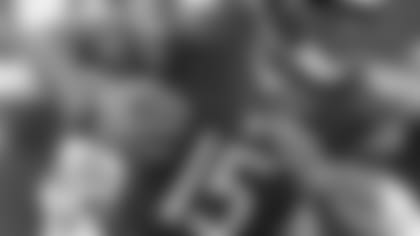 Brandon Marshall was voted to his fourth Pro Bowl in his first season with the Bears.
Marshall was part of some potent offenses early in his career with the Denver Broncos, but the four-time Pro Bowler believes that this year's unit is unlike any other he's played on.

"This offense is explosive," Marshall said. "I think Matt Forte is going to have a huge year. I think Martellus Bennett is going to have a huge year. Alshon Jeffery is going to have to carry us some. I really like what we're doing up front. I'm excited to be in it. It's the best offense I've ever been in."

After sitting out most of the offseason program while recovering from hip surgery, Marshall is expected to practice without limitations in training camp. Missing so much time, he was forced to find inventive ways to learn coach Marc Trestman's new offense.

"I took a lot of chess pieces and drew up plays," Marshall said. "I walked through plays with chess pieces. I just did whatever I could to stay in it mentally; a lot of creative stuff."

Team building
Trestman described the conditioning test the Bears staged Thursday morning at training camp as an "accountability exercise." But it was much more than that.

Players not only got a chance to see how committed their teammates were to working out in the weeks leading up to training camp but were able to bond one day before the first practice.

"Everyone is out there running together," said second-year defensive end Shea McClellin. "I think anytime you've got a team together doing something like that it builds some kind of camaraderie."

The conditioning test consisted of players running three 300-yard shuttles within certain times based on position. They ran from the goal line to the 50-yard line and back three times, and then took a short break between intervals.

"Everyone was nervous coming in," said return specialist Devin Hester. "Most of the guys on the team, this is our first time having a conditioning test before the season starts. I think that was the most important thing; everybody was more nervous about the running than the practices."

The Bears were pleased with the test results, which reflected the hard work the players did to prepare for training camp and ultimately the 2013 season.

"Everyone knows what's at stake," Hester said. "During the offseason you just can't sit around and relax. You do have to continue to work out and stay fit. It seemed like everyone put a little time in during the offseason to prepare their body for this season coming up.

"Everyone came in with the right body fat, great weight, size and all that. Right now we're just looking forward to this camp and getting better."

Knowing his place
After missing most of the offseason program due to an NFL rule that bars rookies from practicing until their college class graduates, guard Kyle Long is excited to be back with his teammates at training camp. But as a rookie, the first-round pick intends to be seen and not heard.

Asked about his mentality entering his first NFL camp, Long said: "Work hard, keep my mouth shut, and just play football and earn the respect of the guys around me."

Selected with the 20th pick in the draft, Long took part in the Bears' rookie minicamp May 10-12 before being exiled. The 6-6, 313-pounder spent five weeks in Los Angeles, working with former NFL offensive line coach Tony Wise while also remaining in constant contact with the Bears.

During OTA practices, Long awoke at 5 a.m. and spoke to assistant offensive line coach Pat Meyer via "FaceTime," which allows for real-time video communication between two parties. Long then used FaceTime to keep track of what was transpiring in team meetings.