The Bears defense isn't the only aspect of the team that's making history this year. Brandon Marshall appears to be on his way to producing the greatest season ever by a Bears wide receiver.
With 59 receptions for 797 yards and seven touchdowns through eight games, Marshall is on pace to set franchise records and establish career highs with 118 catches, 1,594 yards and 14 TDs.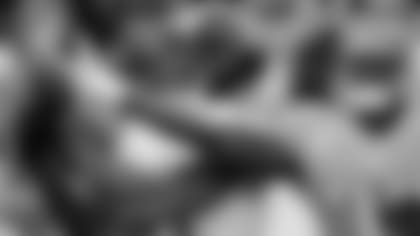 Brandon Marshall hauls in a 39-yard touchdown pass in last Sunday's 51-20 win over the Titans.

"We're very pleased with him," said offensive coordinator Mike Tice. "[Former Seahawks coach] Chuck Knox taught me years ago when you are afforded an opportunity to make a play, you make a play. When Brandon has a chance to make a play, he makes plays."

At the midway point of the season, Marshall has already topped the Bears' leaders in all receiving categories last year: Matt Forte (52 catches), Johnny Knox (727 yards) and Kellen Davis (5 TDs).

Marshall has compiled at least 100 yards in four of eight games and caught three touchdown passes in last Sunday's 51-20 rout of the Titans for the first time in his seven-year NFL career.

Two of the single-season Bears records Marshall is threatening to break belong to Marty Booker (100 receptions in 2001) and Marcus Robinson (1,400 yards in 1999). Also in jeopardy is the team mark of 13 TDs, which is shared by Ken Kavanaugh (1947) and Dick Gordon (1970).

"Brandon's playing well," said quarterback Jay Cutler. "I don't think we get caught up in numbers and how many touchdowns or catches or yards he has. He's doing a great job for this offense. He's attracting a lot of attention and he's still able to play at a high level and catch balls and make things happen on Sunday."

Reuniting with Cutler has helped fuel Marshall's emergence this season. The quarterback and receiver have joined forces for the first time since they developed into Pro Bowlers while spending their first three NFL seasons as teammates with the Denver Broncos from 2006-08.

"We're just taking advantage of our opportunities and we're seeing the game the same way right now," Marshall said. "Hopefully what we're doing can start opening it up for our tight ends a little bit more, our wide receivers and our running game. I think the second half of the season we'll definitely see guys really making plays to move the chains for us."

While that may be true, Marshall no doubt will remain Cutler's favorite target. The two have connected throughout the season even though opponents know he's going to get the ball. Marshall has especially been effective late in games when defenses are stacking the box to defend the run.

"We design plays for 'B,'" Cutler said. "Our offense is going to go through him in the passing game; that's just how it is. A lot of his catches have come in the second half when we do have the lead and we're going to get one-on-one coverage. He's going to be our guy if we get that coverage."

Marshall recently conceded that he is no different from any other NFL receiver as far as thinking that he's always open. But the 6-4, 230-pounder is happy Cutler can be more objective and selective.

"Even this game [against the Titans] I was watching film and I was covered and I was throwing my hand up and I'm shaking my  head because we were watching film on the way back from the game, Jay and I, and I was like, 'that's terrible,'" Marshall said with a laugh. "All receivers think they're open. But Jay has a great feel.

"I think that's where he's better. He's not forcing it to me. I'm getting a bunch of targets. I have a decent amount of receptions, but he's not forcing it. We're just taking advantage of opportunities. He knows exactly when I'm doubled, when they're rolling coverage, when they're trying to be a little tricky and lean a little bit my way. He just tells me to be patient because he sees it."