The Bears on Monday placed receiver Brandon Marshall on injured reserve, ending his season with three games remaining, and promoted receiver Josh Bellamy from the practice squad.
Marshall sustained two broken ribs and a lung injury in last Thursday night's 41-28 loss to the Cowboys when he was kneed by safety Barry Church in the back after making a 15-yard reception.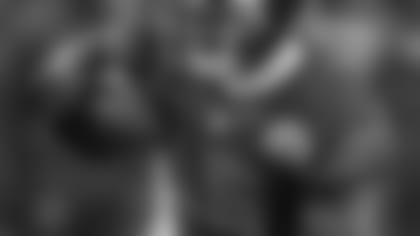 Bears receiver Brandon Marshall will miss the final three games of the season.
Marshall's streak of 64 consecutive starts will end Monday night when the Bears host the Saints. The five-time Pro Bowler hasn't missed a game since Dec. 5, 2010 when he played for the Dolphins and has sat out a total of just five contests in nine NFL seasons.
Marshall has appeared in 135 career games with the Broncos (2006-09), Dolphins (2010-11) and Bears (2012-present), catching 773 passes for 9,771 yards and 65 touchdowns.
In three seasons with the Bears, Marshall ranks third among NFL receivers with 279 catches, seventh with 3,524 yards and fourth with 31 TD receptions. This season he caught 61 passes for 721 yards and eight TDs, tied for the most on the team with Alshon Jeffery.
Bellamy appeared in the Bears' Week 2 win over the 49ers. He was waived Sept. 22 and then re-signed to the practice squad the next day. Prior to joining the Bears, he played in eight games in two seasons with the Chiefs (2012), Chargers (2013) and Redskins (2013).
Next man up: With Marshall sidelined, receiver Marquess Wilson is expected to receive expanded playing time. The second-year pro returned to action Nov. 16 against the Vikings after missing the first nine games with a broken collarbone sustained in training camp.
Asked what he hopes to see from Wilson, coach Marc Trestman said: "Just continued growth in terms of understanding what we're trying to get done, and make sure he's assignment-secure in terms of the things he has to do. We'll move him around; give him different places to come off the line of scrimmage and to elevate his game in terms of making the plays when we target him up."
With five receptions for 40 yards in his first four games, Wilson no doubt will have a chance to catch even more passes from Jay Cutler moving forward with Marshall out.
"I think him and Jay are very well connected," Trestman said. "Offensively, his role and his opportunities will grow because Brandon will be out of the lineup. He's had a lot of practice time with Jay certainly over the last few weeks and early in training camp. I'm excited about seeing where Marquess goes over the next few weeks and how he does."
Focus on Saints: The Bears returned to work Monday at Halas Hall, one day after they were officially eliminated from playoff contention. But Trestman didn't discuss that with the team.
"The only thing I addressed with the players today was getting better today," he said. "Our whole focus is giving them some substance in what to do over the next couple of days to get ready to play New Orleans. None of that has come into play."
Bears players will be off Tuesday and Wednesday before practicing Thursday, Friday and Saturday in preparation for next Monday night's game against the Saints.
Roster addition: The Bears on Monday signed linebacker Jonathan Brown to the practice squad. The 6-1, 230-pounder entered the NFL this season as an undrafted free agent from Illinois.