ARLINGTON, Texas - Brandon Marshall demonstrated his big-play ability in Monday night's 34-18 win over the Dallas Cowboys, catching seven passes for 138 yards and a touchdown.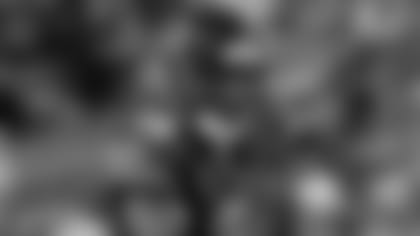 Brandon Marshall caught seven passes for 138 yards and a touchdown in Monday night's win over the Cowboys.
In the second half alone, the three-time Pro Bowler had five receptions for 107 yards, including a 31-yard touchdown that gave the Bears a 34-10 lead midway through the fourth quarter.

"He's a great receiver," said quarterback Jay Cutler. "When he plays within the system, he's hard to cover. He brings a lot of energy and enthusiasm to the huddle out there. I thought tonight was a perfect example of him being patient and waiting for his balls, and when he got a chance he made them count."

Catch this: Devin Hester caught his first touchdown pass of the season, a 34-yarder, torching a Dallas defender with a double move and then making a diving catch in the end zone. Cutler lofted the ball out in front of Hester, letting the speedy receiver run under it.

"He ran a great route; killed the guy," Cutler said. "We got a little leaky up front. I had to let it go a little sooner than I'd like to. But Devin did a great job of tracking it, and he's got some of the best hands on the team."

Hester's TD on the opening possession of the second half capped a five-play, 73-yard drive and gave the Bears a 17-7 lead.

"We wanted to come out running a little bit, but with the defenses they were giving us, [offensive coordinator] Mike [Tice] did a great job of dialing those plays up," Cutler said. "That's the best rhythm we've had offensively in and out of the huddle all year."

Passing fancy: Cutler played his best game of the season, completing 18 of 24 passes for 275 yards with two touchdowns, no interceptions and a 140.1 passer rating, his second highest since joining the Bears in 2009. He was only sacked twice.

"I thought Jay played outstanding ball," Smith said. "In order for that to happen, with the protection up front we had to play a good game because Dallas has a good defensive front. The line did a great job, gave him time and allowed him to hit the receivers, especially Brandon Marshall, who really showed up."

Holding his own: Left tackle J'Marcus Webb got some help, but generally performed well against DeMarcus Ware. The only sack the Cowboys star recorded was of the coverage variety.

"Playing against a player like DeMarcus Ware, you've got to have a plan," Smith said. "Great pass rushers you have to get an offensive tackle some help with him. But it's not like we were chipping him every time. I thought our line did a good job when they were in a one-on-one situation with him. I don't know how many times, but [Webb] held his own tonight."

Prime-time players: With their victory over the Cowboys, the Bears improved to 8-2 on Monday Night Football under Smith, including wins in six of their last seven appearances.

"I don't know why we've been successful with it," Smith said. "The guys realize this is a big stage. You want to play well; everyone is watching you. And we have good players."

Smith's four predecessors all had losing records on Monday Night Football: Neill Armstrong (1-6 from 1978-81), Mike Ditka (8-12 from 1982-92), Dave Wannstedt (4-6 from 1993-98) and Dick Jauron (0-4 from 1999-2003).

The Bears are scheduled to play two more Monday night games this season: Oct. 22 against the Detroit Lions at Soldier Field and Nov. 19 versus the 49ers in San Francisco.

The Bears are now 2-0 all-time against the Cowboys on Monday Night Football, having also defeated them 22-6 in the 1996 season opener at Soldier Field.

Good company: By making his 172nd career start Monday night, Brian Urlacher tied fellow middle linebacker Mike Singletary for third on the Bears' all-time list behind Hall of Fame running back Walter Payton (184) and center Olin Kreutz (183).

Roster notes: Receiver Earl Bennett (hand) and fullback Evan Rodriguez (knee) sat out Monday night's game with injuries. Other Bears inactives were offensive linemen Edwin Williams and Chris Williams, defensive tackles Matt Toeaina and Nate Collins, and defensive end Cheta Ozougwu.

The Cowboys played without four starters in defensive tackle Kenyon Coleman (knee), nose tackle Jay Ratliff (ankle) linebacker Anthony Spencer (shoulder) and center Phil Costa (back). Punter Chris Jones (knee), safety Matt Johnson (hamstring) and linebacker Bruce Carter also sat out.