After being cleared by the Bears medical staff, Pro Bowl receiver Brandon Marshall practiced Tuesday for the first time since undergoing arthroscopic hip surgery in January.
"I'm feeling good," Marshall said. "It's just part of the process where you get a chance to come out and just do a little bit of individual, a couple of plays here and there, and you just build on that. I'm just thankful to be back on the field with my guys."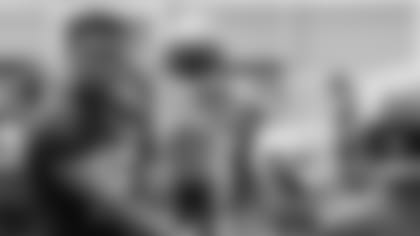 ](http://www.chicagobears.com/multimedia/photo-gallery/OTA-Practice-64/bbba0cc7-8626-4bea-8edc-fc82a9ba21a1)

Click to view photos from Tuesday's OTA practice.
Marshall was also thankful he didn't feel any soreness in his hip after participating in the Bears' eighth of 10 OTA workouts. The team resumed the sessions Monday after having last week off.
"Taking that week off gave me a chance to heal a little bit more, and there's nothing there," Marshall said. "I'm 100 percent now. I'm ready to go."
The Bears will continue to ease Marshall back into action during OTA practices Wednesday and Thursday followed by next week's mandatory full-squad minicamp.
"It was good to see Brandon back out there," said general manager Phil Emery. "He was catching the ball very well. He looked good with his feet and his routes. As we build toward vet minicamp next week, it'll be exciting to see him get more reps as he goes."
"I'll be doing more, but will I do every single play? I don't think so," Marshall said. "It's just being smart. Today I only took a few plays in just a few periods. Next week I'll probably be in every single period, but not as many plays as I would usually be in. But come [training] camp, I'm going to be out there flying around."
Marshall's hip bothered him the last two years, though he didn't miss a start. Last season he shattered Bears receiving records with 118 receptions and 1,508 yards while scoring a career-high 11 touchdowns. In 2011, he caught 81 passes for 1,214 yards while playing for the Miami Dolphins.
"It's been affecting me for two years," Marshall said. "I thought maybe it was just some training or some strength problems or some flexibility problems. But when we went in there they saw a little something and cleaned it up. After a lot of pounding, it tightened up on me and got a little weak. I'm just thankful that we caught it in time and cleaned it out."
After performing at such a high level with a bothersome hip in his first season with the Bears, imagine what Marshall is capable of now that he is pain free.
"I'm excited to see what I can do fully healthy," Marshall said. "Also, there are some little things that I've been watching on film of myself. Every year you get smarter, you get better, and I think being healthy and a little bit smarter this year, it's going to be a productive year for me."
Marshall could have a highly successful season without posting the same type of numbers as last season. With head coach Marc Trestman and coordinator/line coach Aaron Kromer taking over the offense, the Bears figure to spread the ball around more than they did in 2012.
During the offseason the Bears signed tight end Martellus Bennett and left tackle Jermon Bushrod and spent their first-round draft pick on guard Kyle Long. They join a core that already includes Marshall, quarterback Jay Cutler and running back Matt Forte.
"I may have the same amount of targets, I may not, but my only goal is to win," Marshall said. "I'd be lying if I said I don't want to be productive, I don't want to be up there with the best. But at the end of the day if we don't win, none of us will be here. The only thing I'm excited about is playing my part."
Marshall is more than excited about playing for Trestman and Kromer, two coaches who have had great success as NFL assistants implementing systems and developing players.
"I'm ecstatic," Marshall said. "I've never been around better coaches. Lovie [Smith]: amazing coach, amazing man. Coach [Mike] Shanahan: amazing coach, one of the gurus of the game. Josh McDaniels: One of the gurus on offense. But what we have here in coach Kromer and coach Trestman, their leadership on offense is amazing. I've never been around it."