The last time he played against Steelers cornerback Ike Taylor, Brandon Marshall admits that he didn't prepare as diligently as he should have—and the results were evident on the field.
Playing for the Dolphins in a 2010 game in Miami, the Pro Bowl receiver was limited to five receptions for 57 yards in a 23-22 loss to Pittsburgh.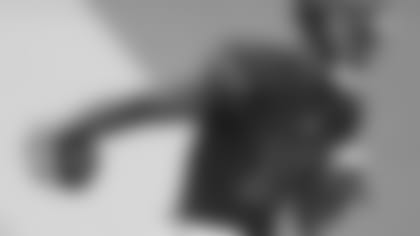 Brandon Marshall celebrates his 31-yard TD catch last Sunday in a 31-30 win over the Vikings.
As Marshall gets ready to face Taylor again Sunday night at Heinz Field, he isn't going to make the same mistake twice. This time, he's devoted much of his week to studying the Steelers cornerback on tape.
"He's one of the best in the business," Marshall said. "It seems like he's getting better as he ages. I remember a few years ago playing against him in Miami. I disrespected him a little bit. I didn't do my film study and I got out there and he did some things that really put me in a tough spot.
"So I've been going back to my Denver days and my Miami days just watching him and seeing how he played me, watching a lot of film because I have a lot of respect for this guy and no longer will I overlook him."
Taylor, who played cornerback with Bears Pro Bowler Charles Tillman at Louisiana Lafayette, was selected by the Steelers in the fourth round of the 2003 draft. Taylor has appeared in 155 games with 121 starts in 11 seasons, recording 14 interceptions and winning two Super Bowls.
"He's a technician," Marshall said. "He's smart. He's always in the right spot. Sometimes we think it's all about having supernatural ability. But it's not. Sometimes when you have your technique down and you really know your game plan and you know what you're supposed to do, that's better than having a guy that's all-world."
Taylor isn't the only talented veteran on the Steelers defense. The unit also features safeties Troy Polamalu and Ryan Clark, linebacker LaMarr Woodley and defensive end Brett Keisel.
"It's similar to our defense," Marshall said. "Different schemes, but you have guys who've been in the same system for 10 years, made a few [championship] runs.
"Whenever you have guys who really know the system, it just makes it so much harder on opposing offenses because they're really the pitcher sometimes and not the batter. As an offense, my philosophy is you always want to control the game. But this is going to be an all-day sucker."
Sunday night's game is special to Marshall because he's returning to play in his hometown for just the second time in his eight-year NFL career and the first time since his rookie season in 2006. Marshall lived in Pittsburgh until moving to Florida when he was in fifth grade, but much of his family still resides in the Steel City.
"I probably could have gotten 100 tickets," Marshall said. "Right now I'm up to like 40 and counting. That's home. My whole family is there. We're the only ones who moved down south. I'm excited to get back there and play in the city where I grew up cherishing the Steelers."
Marshall said that he was an avid Steelers fan right up until the day he was drafted by the Broncos.
"That was my team," Marshall said. "The year I got drafted the Broncos and Steelers had just played in the AFC championship and I remember watching that game in my dorm room with my Steelers blanket cheering for the Steelers, and we went on to go to the Super Bowl. The next year I got drafted by the Broncos and I was like, 'Oh, sorry guys.'"