JACKSONVILLE, Fla. - For the second straight game, the Bears leaned on receiver Brandon Marshall's game-breaking ability in the second half to cruise to a lopsided road win.
Marshall had 12 receptions for 144 yards and one touchdown in Sunday's 41-3 drubbing of the Jacksonville Jaguars, six days after he had caught seven passes for 138 yards and one TD in a 34-18 win over the Dallas Cowboys.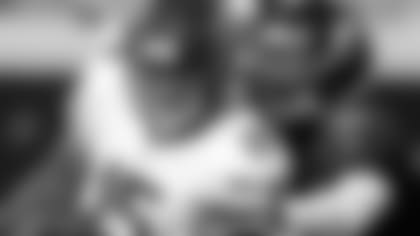 Brandon Marshall's 12 receptions in the Bears' 41-3 win Sunday were the third most in his seven-year NFL career. The three-time Pro Bowler became the first Bears receiver to compile 100 yards in back-to-back games since Marcus Robinson in 1999. What makes the feat even more impressive is that Marshall surpassed the century mark in the second half of both games with five catches for 107 yards against the Cowboys and eight receptions for 100 yards versus the Jaguars.
"This is pretty typical," quarterback Jay Cutler said after Sunday's win. "When he's matched up one-on-one, he's going to make some plays. And whenever we get up like that and they start loading the box [to try to stop the run], he's going to get some opportunities."
Marshall's 12 receptions Sunday were the third most in his seven-year NFL career and the most by a Bears player since Marty Booker also had 12 exactly 10 years ago on Oct. 7, 2002 in a 34-21 loss to the Green Bay Packers in Champaign.
"I keep talking about [Marshall] being a scholarship player," said coach Lovie Smith. "They were doing an awful lot to take him out of the game, but we kept getting him the ball."
With 35 receptions for 496 yards in five games, Marshall is on pace to shatter single-season Bears records with 112 catches and 1,587 yards. But he isn't worried about rewriting the record book.
"I haven't thought about it," Marshall said. "It's always an honor to have that opportunity, that platform to have that chance. But it's all about winning. If we continue to win, we're all going to be special and we're all going to go down in some record books."
Marshall was happy to help the offense rebound from a sluggish first half Sunday. The temperature at kickoff was 88 degrees, and he felt that the heat affected the Bears early on. Asked to identify the biggest difference in the second half, he said: "The sun going down. It was a hot one."
"We started off slowly, but we came in the locker room [at halftime] and kept our cool, kept our composure and we just started executing our game plan," Marshall said. "We wanted to come out and play a lot better, play up to our potential, and I think we did that."