Last week ChicagoBears.com invited fans to select the Bears' top five plays of the season. Finishing in fifth place with six percent of the vote was Brandon Marshall's 5-yard touchdown reception from Jay Cutler in the season finale against the Packers.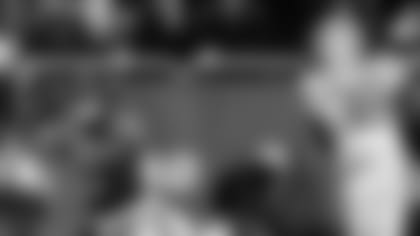 Brandon Marshall makes a diving TD catch after eluding Tramon Williams in the season finale.
The Bears had a run play called, but Cutler decided at the last second to throw the ball to Marshall, who made a diving catch in the end zone after doing a 360-degree spin to elude Packers cornerback Tramon Williams.
"It was a heck of a play," Cutler said. "They had an all-out blitz, I thought they were kind of just bluffing, I left the run on. Then I pulled last second and just threw one up to 'B,' and he did what he does best is make a play for us."
Thinking it was going to be a running play, Marshall was about to block Williams when he saw Cutler drop back to pass.
"I wanted to tell Jay that they were bluffing us a bit, [giving] us the one-on-one look," Marshall said. "So I kept my eyes inside a little bit just in case. I was definitely in position to block, but I saw the ball up and good thing I got my head around."
The touchdown gave the Bears a 28-20 lead early in the fourth quarter, but the Packers rallied for two TDs to win the winner-take-all NFC North showdown 33-28.
The TD was Marshall's 12th of the season, a career high and the most by a Bears receiver since Curtis Conway also had 12 in 1995.