During Wednesday's introductory press conference in the Walter Payton Center, Martellus Bennett was so pumped up about joining the Bears that he was tempted to bolt from behind the podium and run pass routes.
"I'm extremely excited about this opportunity," Bennett said. "Words really can't express the way I feel right now. I'm an energetic guy outside and inside, so right now my heart's smiling as well as my legs because I'm ready to run down the middle of the field and catch some balls from [Jay] Cutler."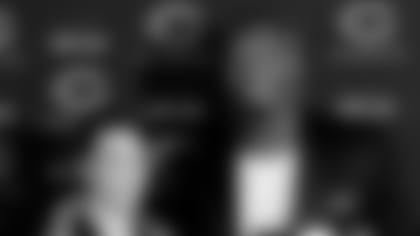 Tight end Martellus Bennett and his wife, Siggy, hold up his new Bears jersey during Wednesday's press conference. Bennett will get that opportunity next month when the offseason program begins. A complete tight end who excels as a blocker and receiver, the 6-6, 265-pounder had other options in free agency but signed with the Bears due primarily to the franchise's rich history and the chance to contend for a championship.
"I thought it was a team that's in place to win a Super Bowl," Bennett said. "From the defense and offense I thought they had a lot of key elements for a winning organization. They won 10 games last year and I felt this is a team that's right on the cusp of being the next great team."
The chance to play with Pro Bowl receiver Brandon Marshall was another factor in Bennett's decision to join the Bears. The two players share the same agent and have been friends for about four years.
Bennett, who established career highs with 55 receptions for 626 yards and five touchdowns last season with the Giants, credits Marshall with helping him develop into a consistent playmaker.
"B Marsh has been a mentor of mine for the last couple years," Bennett said. "He's one of the reasons why I've been able to take the strides in my career that I have been. He's a guy I look up to for the way he plays and the kind of person he is. He's been a good person to have in my life on and off the field. I'm excited about playing with him. I think he's going to help me take my game to another level, which is a big reason why I came here."
Speaking to Bennett about the Bears, Marshall had very good things to say about Cutler.
"He just told me he's a great guy," Bennett said. "He's a fiery guy who wants to win. He said he's a guy that you're going to love to play with. I think Cutler's a great player. I've been watching him for a while. He has a canon for an arm. I don't think there's a throw he can't make."
It's no coincidence that Bennett's breakout season with the Giants in 2012 came in his first year as a full-time NFL starter. During the previous four seasons as the Cowboys' No. 2 tight end behind perennial Pro Bowler Jason Witten, Bennett often failed to perform as well as expected.
"It's no secret that I struggled early in my career, but it wasn't because of ability or being able to make plays," he said. "It was more attitude. I never accepted my role in Dallas and always was fighting what my role was.
"I didn't want to be the second guy. I never want to be second. I still don't want to be second. I finally got a chance to be a No. 1 guy and I was able to make huge strides in being able to play and make plays, so I think this is the next step and I'm excited about it."
Bennett is eager to join a Bears offense that has lacked a consistent pass-catching threat at the tight end position since Greg Olsen was traded to the Panthers prior to the 2011 season.
Although it's not entirely clear exactly how the Bears will utilize Bennett in new coach Marc Trestman's offense, it's a safe bet that the prized free-agent acquisition will get plenty of chances to contribute.
"As a player all you can ask for is opportunity, whether it's blocking or being the guy," Bennett said. "I just want the opportunity to use the best of my ability and all my potential, and I think that's something they're going to let me do here. I talked to the coaches and they have huge plans for me."