Former Bears punter Brad Maynard, an Indiana native who played for Ball State from 1993-96, will be inducted into the Mid-American Conference Hall of Fame May 30 in Cleveland.
Maynard was the first punter in Division I history to be named a conference MVP. He earned that honor while also being named the MAC's defensive player of the year as a senior in 1996.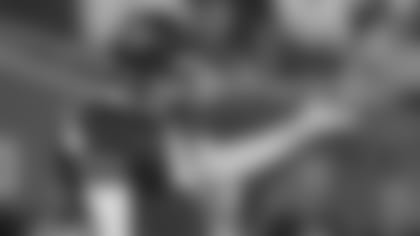 Brad Maynard
Maynard left Ball State as the school's all-time leader in punts and punt yardage, and set the MAC record for career punt average. He was a first-team All-MAC selection in 1994, 1995 and 1996, and was named a consensus first-team All-American in 1995 and 1996.
Maynard spent his first four NFL seasons with the New York Giants after being selected in the third round of the 1997 draft. He signed with the Bears in 2001 and remained with them for 10 seasons, helping the team win four division championships and one conference title.
Maynard holds Bears records for punt yardage in a career (36,781) and season (4,638 in 2004) as well as punts inside-the-20 in a career (284), season (40 in 2008) and game (six at Green Bay on Dec. 9, 2001). He ranks second in team history with 878 punts behind Bob Parsons (884).
Baschnagel honored: Maynard isn't the only former Bears player being honored this month. Brian Baschnagel, a wide receiver who played with the team from 1976-84, was inducted into the Western Pennsylvania Sports Hall of Fame Saturday night in Pittsburgh.
Baschnagel grew up in the region, starring for North Allegheny High School in Pittsburgh. Playing running back, he rushed for 409 yards in a 1971 game and 432 yards in a 1972 contest.
The Bears selected Baschnagel in the third round of the 1976 draft out of Ohio State. He appeared in 129 games, catching 134 passes for 2,024 yards and nine touchdowns.
Hall call: Three former Bears will be part of the College Football Hall of Fame's Class of 2013: quarterback Danny Wuerffel, tackle Orlando Pace and linebacker Percy Snow.
Wueffel led Florida to the national championship and won the Heisman Trophy in 1996. In 2006, the Gainsville Sun voted Wuerffel the top player from the first 100 years of Gators football. He spent one of his six NFL seasons with the Bears in 2001, appearing in one game.
Pace won two Lombardi Awards (presented to the best lineman or linebacker in college football) and one Outland Trophy (given to the best interior lineman) at Ohio State. After spending his first 12 NFL seasons with the St. Louis Rams, he started 12 of 13 games played for the Bears in 2009.
Snow, who starred at Michigan State, is one of only four players in college football history to win both the Lombardi Award and the Butkus Award (presented to the top linebacker). He played one season with the Bears in 1993, appearing in 10 games.