The Bears have signed 11 free agents from other teams this offseason, and Pernell McPhee is eager to welcome each and every one of them to Halas Hall.
"I'm going to be very excited but very aggressive at the same time," McPhee said. "You've got to start from the beginning. You've got to let guys know this is not a playground, this is a job. We can have fun, but this is how we feed our family and everybody goes home happy at the end of the day by winning."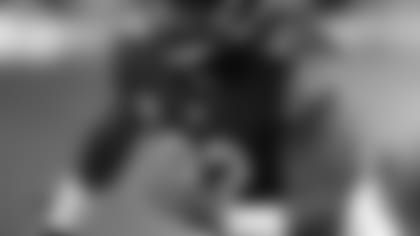 Veteran outside linebacker Pernell McPhee won a Super Bowl with the Baltimore Ravens as a rookie in 2011.


The veteran outside linebacker, who won a Super Bowl ring with the Baltimore Ravens as a rookie in 2011, plans to share that message with his newest teammates when the offseason program begins April 18.
The free agents who've signed with the Bears since the start of the new league year March 9 are quarterbacks Mike Glennon and Mark Sanchez, receivers Markus Wheaton and Kendall Wright, tight end Dion Sims, running back Benny Cunningham, tackle Tom Compton, defensive lineman John Jenkins, cornerbacks Prince Amukamara and Marcus Cooper and safety Quintin Demps.
In 2015, the Bears targeted McPhee in free agency due in large part to the toughness and attitude he would bring to the locker room.
"He's a leader," said Bears chairman George H. McCaskey. "People talk about when you lose somebody like [Brian] Urlacher, there's a leadership void and I think Pernell's done a great job of filling that void. We wish he'd have been in better health, but he's working on that. He's trying to get back ready to help us in 2017."
McPhee has been productive when healthy, but he has been hampered by injuries since joining the Bears. A knee injury limited him during the second half of the 2015 season and forced him to miss the first six games in 2016. He's also in the process of recovering from a shoulder injury that sidelined him for last year's season finale.
Asked what a healthy McPhee would mean to the Bears defense, McCaskey said: "He's a dynamic player and we need him on the field. When he is on the field, he makes things happen for us. So the more we can get him on the field, the better."
While accepting the Ed Block Courage Award Tuesday at Maryville Academy in Des Plaines, McPhee wouldn't say whether he'd be ready to participate in OTAs next month. But he told reporters that he feels great after losing 25 pounds in the last year.
"It's definitely a blessing and I can't wait until the season starts," McPhee said. "I'm doing great right now. I can do just about anything that I did before anything happened, but it's definitely been a process."
McPhee said that what enabled him to lose weight was not eating after 7 p.m. and drinking a lot of water. Shedding the extra pounds has put an extra spring in his step.
"It was real important because usually when I got out of bed it used to take me a good second to start walking, but I can get up and run right now," he said. "Like I said, it's definitely a blessing just coming from where I was until now."