It looks like Bears defensive Shea McClellin will have to wait to try to build on his breakout performance in Monday night's win over the Packers.
The second-year pro from Boise State did not practice Friday and is listed as doubtful for Sunday's game against the Lions after injuring his hamstring in Thursday's workout.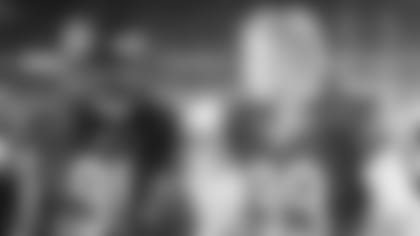 David Bass (left) is expected to fill in for the injured Shea McClellin Sunday against the Detroit Lions.
McClellin was named NFC defensive player of the week after equaling his career output with three sacks against the Packers. On the first sack, quarterback Aaron Rodgers suffered a broken collarbone that knocked him out of the game and will sideline him for several weeks.
"On a personal level, I feel bad for him if he doesn't play because he really had a good game last week, we all know that, and he was moving in the right direction," coach Marc Trestman said Friday after practice. "So certainly I'm disappointed for him."
If McClellin is unable to play, rookie David Bass likely would start opposite Julius Peppers. Bass has recorded six tackles, one tackle-for-loss and two quarterback pressures in four games since he was claimed off waivers from the Raiders Sept. 1.
"[Bass] has athletic ability, he's strong up front, he can move around and Mike [Phair] is working hard to continue to develop him," Trestman said. "We think he's got some upside and he's certainly going to get an opportunity to play if this thing goes as we think it will."
Cheta Ozougwu likely would also be part of the defensive end rotation. He appeared in two games with the Bears last season, registering three tackles and one tackle-for-loss. Ozougwu was waived by the Bears Sept. 1 and was re-signed to the practice squad Sept. 24.
Cutler's ready: The injury news was much better for quarterback Jay Cutler, who practiced without restrictions Friday for the second straight day and remains on track to start Sunday.
"Jay did the entire practice today, had a very good practice, and he looks like he's good to go," Trestman said.
Cutler, who is officially listed as probable, took all of the first-team reps in practice Thursday and Friday. The Bears did not work out Wednesday because they played Monday night.
"Jay took them all this week," Trestman said. "That's how we've operated and that's what we did this week. With only two days, Jay needed every rep anyway, and we had to make sure that what we were seeing in his workouts was the same that we saw in a competitive practice, and they were."
Injury update: Linebacker Lance Briggs (shoulder), long-snapper Patrick Mannelly (calf) and defensive tackle Jeremiah Ratliff (groin) have been ruled out of Sunday's game.
Cornerback Charles Tillman (knee), tight end Dante Rosario (ankle), linebacker Blake Costanzo (back) and guard James Brown (illness) are all probable after practicing without restrictions.
For the Lions, receiver Nate Burleson (forearm) is out; and defensive end Ezekiel Ansah (ankle), cornerback Bill Bentley (knee) and tackle Corey Hilliard (knee) are doubtful.
Homeward bound: The Bears will play their first home game Sunday in exactly a month. They're 3-1 this season at Soldier Field, beating the Bengals, Vikings and Giants and losing to the Saints.
"Our guys are really excited to get back to Soldier Field," Trestman said. "It's been a long time, and getting back to our home crowd, we need our fans. They're a big part of what we do. We were up in Detroit and their fans did a great job for them, so we need everybody behind us. I know we'll have that, and like I said, the guys are excited to be home."