Bears defensive end Shea McClellin's monster game Monday night in Green Bay earned the second-year pro NFC defensive player of the week honors.
After recording three sacks in his first 21 NFL games, McClellin matched that total in a stirring 27-20 win over the Packers, helping the Bears claim a share of first place in the NFC North.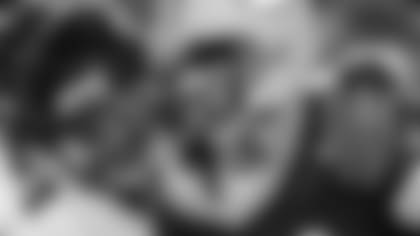 Bears defensive end Shea McClellin sacks Aaron Rodgers Monday night.
"It was rewarding for me for sure, but more importantly for the d-line and the defense," McClellin said Wednesday. "I think we needed a game like that for us and we've got to keep building off that."
McClellin's sack of Aaron Rodgers on Green Bay's first possession knocked the Packers quarterback out of the game with a fractured left collarbone, an injury that is expected to sideline him for several weeks.
McClellin added two more sacks of backup Seneca Wallace in the fourth quarter. The first, which came with the Bears protecting a 24-20 lead, forced a Green Bay punt, while the second occurred on the final play of the game.
"I was very pleased with some of the things that Shea did in the game," said defensive coordinator Mel Tucker. "His rush was very effective at critical times in the game, so that was very positive."
Monday night's three-sack performance came at a perfect time for McClellin, who had been the subject of mounting criticism from fans and media for a lack of production this season. In the first seven games, the 2012 first-round pick had recorded only 11 tackles and a half sack.
"Shea has worked very hard at this game and he's done that since the very beginning," Tucker said. "When you have guys that have talent and that put a lot of hard work and effort with that, eventually guys are going to break through and so I think that's what we saw."
Bears coach Marc Trestman was pleased with McClellin's performance against the Packers and is confident that the Boise State product will build on it moving forward.
"No. 1, he's been working very hard," Trestman said. "No. 2, he's a very prideful guy. He wants to be great and it hasn't all shown up immediately like a lot of people think it should, and everybody has their own perspective on things.
"But I think that after Monday night's game there's a little more light on the topic now and a little more self-confidence. We all believe in Shea and we've shown Shea that he'll bring out more of that in himself as well as he matures. It was a great sign for Shea and a great sign for our football team."
Tucker also feels that the outing will boost McClellin's confidence.
"When you perform on a stage like that-it's a division game on the road, a Monday night-and you're able to contribute in a big way to a win, I think you can learn from that and gain confidence from that and move forward," Tucker said, "and I think that's what we need to do."
McClellin's success came after the Bears focused on technique and fundamentals during two extra practices following their bye week.
"He's worked hard in practice," Tucker said, "Coach [Mike] Phair and coach [Michael] Sinclair have done a nice job with those guys, with the pass-rush techniques and the get-off and the approach and things like that. That was a big point of emphasis during the bye week and I think it paid dividends for us."