Defensive end Shea McClellin practiced without limitations Wednesday and expects to play Sunday against the Rams after missing the last two games with a hamstring injury.
"I feel good," said McClellin, who sustained the injury Nov. 7 during practice. "I feel 100 percent and ready to get back out there and help the guys out."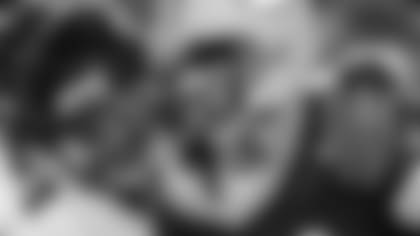 Bears defensive end Shea McClellin sacks Packers quarterback Aaron Rodgers Nov. 4 in Green Bay.
McClellin hasn't played since recording three sacks Nov. 4 in a Monday night win over the Packers in Green Bay. The performance earned him NFC defensive player of the week honors.  
Coach Marc Trestman is cautiously optimistic that McClellin will be able to return against the Rams.
"We're got to see how he feels tomorrow," Trestman said. "He didn't get a lot of reps, but he got enough and he moved around. We'll see. We want to be patient with it. We don't want to put him out there with the possibility of him reinjuring it, so we'll just listen to the trainers and doctors and keep working with them as they tell us to. It was encouraging today, I will say that."
Long-snapper Patrick Mannelly also practiced without restrictions and is expected to play in St. Louis after missing the last two games with a calf injury he sustained against the Packers. On Tuesday, the Bears waived temporary replacement Jeremy Cain.
The news was not as positive for Stephen Paea, who exited last Sunday's overtime win over the Ravens after aggravating a toe injury that had forced him to miss two games earlier in the season. The third-year defensive tackle did not practice Wednesday.
"He'll be very questionable for the game on this toe that he has," Trestman said. "It's the same toe. He was in a boot today. We'll see where he is in the next couple days. But I'm not optimistic about that one. It's day-to-day."
With Landon Cohen and Christian Tupou the only healthy defensive tackles on the roster, it appears likely that Corey Wootton will help fill the void inside as he has done most of the season.
"Like we've done, guys sometimes have to move around," said defensive coordinator Mel Tucker. "Some guys have to play a little bit more. That's kind of what we do. We ask guys to step up and be ready to go. We have guys that can play multiple positions.
"That's kind of how we go about it. We cross-train them in practice and tell guys, 'Hey, you've got to be ready to play end and tackle or three technique and nose.' Those guys do that."
It does not appear that veteran defensive tackle Jeremiah Ratliff will be able to make his Bears debut in St. Louis, despite practicing on a limited basis Wednesday.
"I would not say that it would be this Sunday and we'll re-evaluate it next week," Trestman said. "That could change, but to be fair with the situation, I would say that we're still a little bit away."
Nickel back Isaiah Frey and safety Craig Steltz both did not practice. Frey sustained a fractured hand against the Ravens, but he's expected to play with a cast on Sunday in St. Louis. Steltz, meanwhile, is recovering from a concussion he suffered on the overtime kickoff last Sunday.
"We'll know more as we continue, but he is working through the protocol," Trestman said. "We're going to make sure he's safe and over this before he goes out."
Quarterback Jay Cutler and linebacker Lance Briggs have already been ruled out of Sunday's game. Sidelined with a high ankle sprain, Cutler swapped a hard cast for a small brace. But that doesn't necessarily improve his chances of returning to action a week from Sunday in Minnesota.
"I'm really not the doctor," Trestman said. "They tell me it's week-to-week. I try not to put myself in a position where I get overly optimistic about these things. I just take them as I come, so I look at it as being week-to-week right now and we'll see where he is on Monday."
Briggs, meanwhile, is making progress from the fractured shoulder he sustained Oct. 20 in Washington and remains on schedule to return in a couple of weeks.