Still recovering from a hand injury he suffered last week in practice, strongside linebacker Shea McClellin will miss his second straight game Sunday when the Bears host the rival Packers.
"He's not practicing this week and he'll be week-to-week," said coach Marc Trestman.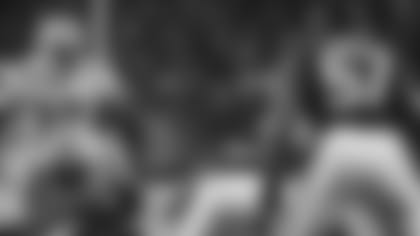 Jon Bostic is expected to line up at strongside linebacker Sunday against the Packers.
Jon Bostic started in McClellin's place in Monday night's 27-19 win over the Jets and led the Bears with 14 tackles. The 2013 second-round pick from Florida also broke up two passes, one of which was a would-be interception that he dropped on New York's final drive of the game.
Asked to assess Bostic's performance, Trestman said: "Very good to the football. We'd love him to catch that ball there at the end of the game, but other than that I thought he took on blocks at the line of scrimmage, at the point. He fit the run and ran to the ball. I thought he played well and used his athleticism and his physicality to really help our football team."
Weakside linebacker Lance Briggs, a seven-time Pro Bowler, has been impressed with Bostic.
"Jon's a smart man," Briggs said. "He's a student of the game. He's a guy that studies his opponent very well. He goes into games with a lot of tips—formation alerts, motion alerts and things they do on different downs. He'll call things out. Sometimes he'll make a call too soon and I have to say, 'Jon, let me make the call.' But he's an eager guy. He wants to be a playmaker, and he is."
Health update: Because they played Monday night, the Bears did not practice Wednesday. Had they worked out, eight players would not have been able to participate.
The group consisted of McClellin, defensive end Jared Allen (illness), fullback Tony Fiammetta (hamstring), center Roberto Garza (ankle), receiver Brandon Marshall (ankle), cornerback Sherrick McManis (quad), defensive tackle Jeremiah Ratliff (concussion) and left guard Matt Slauson (ankle). Safeties Chris Conte and Ryan Mundy would have been limited with shoulder injuries.
Asked about the likelihood of Garza and Slauson returning this week after missing two games, Trestman said: "I'm not optimistic, quite frankly. But it is possible they could be ready to go on Thursday and Friday at practice. It's day-to-day and we'll stay with the injury report on that."
For the Packers, linebackers Clay Matthews (groin), Brad Jones (quad) and Nick Perry (wrist) were limited in practice.
Complete player: Jared Allen has not recorded a sack in the first three games of the season, but the veteran defensive end has still made an impact. In Monday night's win over the Jets, he led defensive linemen with eight tackles and eight quarterback pressures.
"Jared is a complete football player," said defensive coordinator Mel Tucker. "He does a lot for us on the field. First and foremost, he's committed to being a run defender. He sets the tone for those guys up front. He talks about it and he also backs it up with his actions the way he practices, the way he plays, in terms of the run game.
"He provides great leadership for us and plays with a very, very high motor. He has a relentless mentality. He's always applying pressure by the way he plays, and I think that helps the other guys."
Revenge factor: The Packers dealt the Bears a devastating loss in last year's season finale, recording a 33-28 victory at Soldier Field in a winner-take-all clash for the NFC North title. But revenge for that defeat won't necessarily be on their minds when they take the field Sunday.
"That's overblown," said linebacker Lance Briggs. "This is 2014. We've just got to go out and win. That's more important than anything else. If we go out and get that 'W,' everybody will be happy."