Bears coach Marc Trestman praised converted defensive end Shea McClellin Friday for his improved play at strongside linebacker in Thursday night's preseason win over the Jaguars.
In registering four tackles and one tackle-for-loss, the third-year pro looked more comfortable at his new position than he did in last week's preseason opener against the Eagles.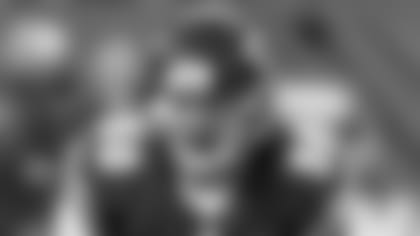 Shea McClellin was moved to linebacker after two seasons at defensive end.
"He was around the ball a little bit more," Trestman said. "He was more active. It appeared to me he was just more comfortable at the position this week, and that's what we would expect.
"I talked to [linebackers coach] Reggie [Herring] after the game a week ago and that was his first time playing 'Sam' in a real game. It's not Bourbonnais and it's not out here at Halas. It's a real football game and you could see a little more confidence, a little more reactive and natural reactions to making plays. I thought he got better, and that's a good sign.
"We've got two more weeks [before the regular season begins] and I'm hopeful that he'll continue to make progress."
On the game's first possession Thursday night, McClellin stopped Toby Gerhart after a 1-yard gain on second-and-two and the Jaguars eventually settled for a field goal. Later in the first quarter, McClellin dropped Jordan Todman for a three-yard loss.
Stepping up: Trestman also lauded the performance of linebacker Jon Bostic, most notably for racing to the sideline and throwing Gerhart for a four-yard loss early in the game.
"He played well," Trestman said of the second-year pro from Florida. "He was excellent inside running to the football. He was physical. Obviously you saw him make that play. It was a good job setting the edge by the guys inside. But it was an excellent play by him making the tackle."
Bostic has been mostly playing middle linebacker in the base and nickel defenses.
Backfield in motion: Tim Jennings has been moving from cornerback to nickel back in passing situations so the Bears can get rookie cornerback Kyle Fuller on the field.
But when Fuller exited Thursday night's game after hurting his foot on the opening kickoff, Jennings remained at cornerback with Kelvin Hayden stepping in at the nickel position. The decision was made in part because Jennings missed the preseason opener and part of training camp with a quad injury.
"Tim was coming back," Trestman said. "We thought it would be a good time for him to get some work out there, work that he might not get when Kyle gets back."
Trestman is pleased with how Jennings has adjusted to the nickel position.
"His leverage, his understanding of how to play inside was excellent through the camp and the time that he played," Trestman said. "He was highly competitive covering our receivers inside during camp before he got hurt. So I think that transition is something that he's going to be able to handle easily."
No qualms: Brandon Marshall has joined the cast of Showtime's "Inside the NFL," which will tape every Tuesday throughout the season in New York. Trestman revealed Friday that the Pro Bowl receiver informed him about the opportunity before agreeing to do the show.
"Brandon did come to me first and he told me about the situation that he had and I just told him, 'I'm not going to make that decision for you,'" Trestman said. "I said, 'I trust that the football team will always come first, that your energy will be in place each and every Wednesday when we go to work and you'll do the things you need to do to be ready to play on Sunday.' And I said, 'I trust you.' And that's how I left it with him."