Shea McClellin delivered one of the top plays in Thursday's practice, knifing into the backfield to drop running back Jeremy Langford for a loss during a live goal-line drill.
After playing defensive end in 2012-13 and outside linebacker last year with the Bears, McClellin has excelled in training camp at inside linebacker in coordinator Vic Fangio's 3-4 scheme.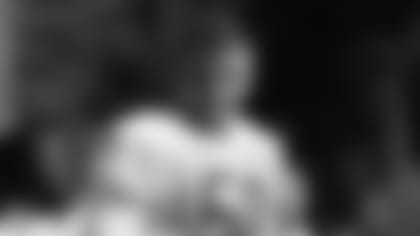 Shea McClellin at practice.
"The idea to move him inside was a good idea," said coach John Fox. "It's obviously required a lot of work and effort on his part. Hats off to him for that. I think his skill set fits there and we'll see how it goes moving forward. I've been pleased with him so far."
McClellin has not made the impact the Bears expected when they selected him with the 19th overall pick in the first round of the 2012 draft. But that could change this year in the team's new 3-4 scheme.
"He looks a lot more comfortable," said quarterback Jay Cutler. "I talked to him a couple days ago as we were walking to lunch and he seemed really upbeat. He likes his position now."
On the same page: Cutler has enjoyed working with first-year offensive coordinator Adam Gase.
"He does an exceptional job of communication, making sure the quarterbacks are comfortable, making sure him, [quarterbacks coach] Dowell [Loggains] and myself are all on the same page when we go on the field," Cutler said. "He doesn't want to call a play and me not know why he's called that play. So we have a lot of dialogue in making sure, 'Hey, we're going to call this, this and this, this is going to happen versus this.' So it's good. It makes it so we're all on the same page."
Gase joins the Bears this season after spending the past six seasons with the Denver Broncos, the last four working for Fox as quarterbacks coach (2011-12) and offensive coordinator (2013-14).
"I think Adam is creative," Fox said. "He's a good football mind. He understands the game as far as playing smart football, the things you've got to do in the run game and pass game."
Tough customer: Facing a former NFC East rival in defensive lineman Jeremiah Ratliff every day in practice figures to help Bears center Will Montgomery sharpen his skills.
"Ratliff's a stud," Montgomery said. "When I was with the Redskins and he was with the Cowboys, I had to play him twice a year for many years. He was always somebody you marked on your calendar and now I see him every day. He's definitely one of the top [nose tackles] that I've ever played against and I'm glad he's on our team."
Ratliff was selected to four straight Pro Bowls while playing for the Cowboys from 2008-11.
"He's smart, he's strong, he's got long arms," Montgomery said. "He knows how to play every block perfectly. He never gets out of position."
Camp news: Offensive lineman Michael Ola is expected to miss about a week with a strained knee he sustained in Wednesday's practice. "He's day-to-day right now," Fox said. "Luckily it wasn't real serious."
Rookie tackle Tayo Fabuluje exited practice Thursday for the second straight day due to an asthma attack. "We're going to monitor that and hopefully get that right," Fox said.
Defensive lineman Ego Ferguson was excused from Thursday's workout for personal reasons.