As the final seconds of Monday night's win over the Cowboys ticked off the clock, an exuberant fan sitting behind the Bears bench spotted analyst Steve Young rushing to the ESPN set.
"Hey Steve, you're no McCown!" the fan screamed at the Hall of Fame quarterback.
Josh McCown will never be enshrined in Canton, but the 34-year-old has consistently excelled this season in place of the injured Jay Cutler. On Monday night, McCown delivered his most impressive performance to date, accounting for all five touchdowns in a crucial 45-28 victory.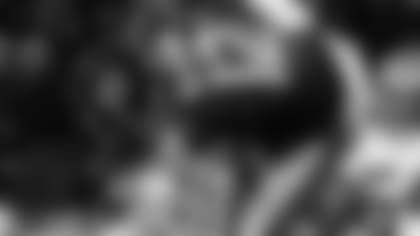 Bears quarterback Josh McCown soars into the end zone in Monday night's win over the Cowboys.
"He's amazing," said receiver Brandon Marshall. "We really appreciate his leadership. What he's been doing for us, this guy is a special person on and off the field."
McCown completed 27 of 36 passes for 348 yards with four touchdowns, no interceptions and a career-high 141.9 passer rating. He also rushed for a 7-yard score. In the process, he became the first Bears quarterback to produce five TDs in a game since Jack Concannon on Dec. 13, 1970 in a 35-17 win over the Packers at Wrigley Field.
"He's just getting better every single week he gets an opportunity," said left tackle Jermon Bushrod. "We love to see him have success like that and we're going to do whatever we can for him to continue to throw that ball around and fight to be as balanced as possible."
With McCown leading the offense, the Bears scored on all eight of their possessions before taking a knee on the final play. After passing for 352 against the Rams and 355 yards versus the Vikings, McCown became the first quarterback in Bears history with three straight 300-yard games.
"I thought he played an excellent game," said coach Marc Trestman. "We moved the ball. He completed passes. I thought there were a lot of exceptional catches in the game. Not every play works out like you draw it up. The guys ran around, Josh ran around and made some plays."
McCown gave the Bears a 14-7 lead with a 7-yard TD run up the middle midway through the second quarter. After faking out defensive tackle Nick Hayden, McCown dove in the air and was helicoptered at the goal line by a Cowboys defender.
"A run like that by your quarterback?" Bushrod said. "Him jumping into the end zone and getting flipped around a little bit? Him getting up with a smile on his face? It just gets us going, man. If he can go lay it out there like that, then we have to lay it out there like that.
"He played lights out. He marched us down the field. He made the right reads. He ran when needed and made big plays, physical plays. That run was beautiful. He laid his body out on the line for us and we're appreciative of that."
Appearing in the last seven games with five starts, McCown has completed 147 of 220 passes for 1,809 yards with 13 touchdowns, one interception and a 109.8 passer rating.
"You always wonder how it would be if you operate in the right kind of offense with the right kind of players and so on and so forth," McCown said. "With me, it's just about being in the right situation now with these guys, with this offense and with these coaches, and allowing me to play within this system with the guys that are around me."