The Bears on Friday agreed to terms with quarterback Josh McCown on a one-year contract.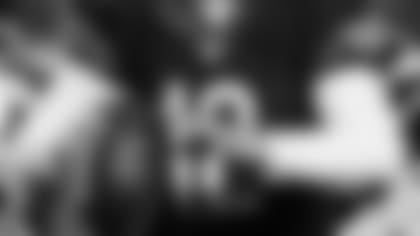 Josh McCown
Each of the past two years, the nine-year NFL veteran joined the Bears in November after Jay Cutler suffered an injury. On both occasions, McCown left North Carolina for Chicago shortly after the high school football team he helps coach, Marvin Ridge, had lost in the playoffs.

"I'm very excited," McCown said. "I'm honored to be asked back and ready for the opportunity. I look forward to working with those guys again. It's a great opportunity, so I'm very thankful."

McCown, 33, is looking forward to working with new Bears coach Marc Trestman, who has an impressive track record of developing quarterbacks. Under his tutelage, Steve Young helped the 49ers lead the NFL in scoring and passing yards in 1995, and Rich Gannon was named NFL MVP in 2002 when he led the Raiders to the Super Bowl.

"The opportunity to work with coach Trestman is very exciting," McCown said. "It's very intriguing as a quarterback having seen what he's been able to do with Rich Gannon and other guys he's worked. When I first came into the league, Rich Gannon was having a lot of success in Oakland. I remember that vividly, and it's something that excites me about working with coach Trestman."

McCown opened the 2011 season as a prep coach and closed it as the Bears' starting quarterback after Cutler broke his thumb against the Chargers and Caleb Hanie struggled in his place.

Appearing in three games with two starts, McCown completed 35 of 55 passes for 414 yards with two TDs, four interceptions and a 68.3 passer rating. He threw for 242 yards and one touchdown in a loss to the Packers and 160 yards and one TD in a win over the Vikings.

McCown re-signed with the Bears last March and remained with them throughout the summer. He started and played the entire preseason finale, completing 20 of 29 passes for 157 yards with two touchdowns, one interception and a 90.7 passer rating in a 28-20 win in Cleveland.

McCown was released during final cuts, but rejoined the Bears last Nov. 13, two days after Cutler had sustained a concussion in a 13-6 loss to the Houston Texans at Soldier Field. McCown did not appear in a game, however. Jason Campbell started the following week and Cutler returned after missing only one start. Campbell left the Bears on Tuesday to sign with the Browns.

Prior to joining the Bears, McCown started 31 of 47 games played in eight NFL seasons with the Cardinals (2002-05), Lions (2006), Raiders (2007) and Panthers (2009), completing 57.7 percent of his passes for 6,584 yards with 35 touchdowns, 40 interceptions and a 71.3 passer rating.