GREEN BAY, Wis. – Bears quarterback Josh McCown proved Monday night in Green Bay that his impressive performance two weeks earlier against the Redskins was no fluke.
Starting his first NFL game since the 2011 season finale in place of the injured Jay Cutler, McCown completed 22 of 41 passes for 272 yards with two touchdowns, no interceptions and a 90.7 passer rating in a 27-20 victory over the Packers.
[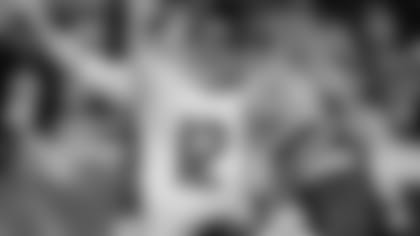 ](/multimedia/photo-gallery/Bears-at-Packers/7d365be6-0822-4fd9-b051-13f2b3eed540)

Josh McCown helped the Bears generate a season-high 442 yards against the Packers. Click to view photos from the game.
McCown helped the Bears generate a season-high 442 yards, 25 first downs and their most points against the Packers in 12 games—since a 35-7 win in the 2007 season finale. Receiving excellent pass protection from the offensive line, he was sacked only once.
"We keep getting better and better," said center Roberto Garza. "Josh getting rid of the ball makes us look good. Tight ends did a good job, receivers got open and running backs stepped in. The guys have a lot of trust in each other."
The victory at Lambeau Field marked the first time that McCown had played on "Monday Night Football" in his 11-year NFL career with the Cardinals (2002-05), Lions (2006), Raiders (2007), Panthers (2008-09) and Bears (2011-13).
Asked about the significance of the win, McCown said: "It would be hard to find one better than this, but they are all special at every level from back at high school to Sam Houston State to now. This is really neat because it means so much to our team, because it is a divisional opponent and it is for the divisional lead. All those things factor into this. So it is special and I am very thankful."
McCown was especially sharp in the first half when he staked the Bears to a 17-10 lead by connecting on 14 of 22 passes for 196 yards with one touchdown and a 107.4 passer rating.
His 23-yard TD pass to Brandon Marshall on the Bears' first possession of the game was a thing of beauty. McCown was being twisted to the ground by 6-3, 285-pound defensive end Mike Neal when he heaved the ball into the right corner of the end zone to Marshall, who leaped high to haul it in despite being interfered with by cornerback Tramon Williams.
"I feel like somebody hit me or hit me in my head or something because I remember stepping up," McCown said. "I threw it and then I can't remember if I got hit again. I don't know if I had a clean view of it, but I know that he was fighting with a guy when I let it go, so he must have made a great play."
The Bears had expressed their confidence in McCown throughout the week after excelling in relief Oct. 20 against the Redskins. In that contest, he completed 14 of 20 passes for 204 yards with one TD, no interceptions and a 119.6 passer rating.