Josh McCown's coaches aren't the only ones who've helped the Bears backup quarterback excel in relief of injured starter Jay Cutler the last four games.
With their roles reversed, McCown said that Cutler has been "so helpful" throughout the week in meetings and on the practice field and as well as during games.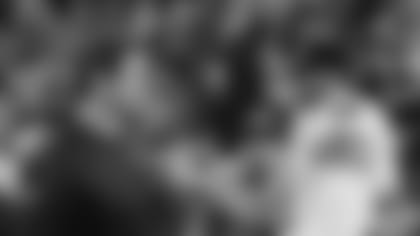 Jay Cutler chats with Josh McCown during the Bears' Week 9 win over the Packers in Green Bay.
"He's been great," McCown said. "Jay is one of the smartest football players I've been around, so it's good to hear him and to hear his thoughts and those things because it's helpful to me.
"There are little things during the game that I won't go into that he does for me and says that are huge and they make a difference to me. I couldn't ask for anybody better. He's been great. He's been helpful. It's a credit to his character because what he's going through, it stinks.
"Nobody wants to be injured and not play, and he's handling it well and then some because he's so helpful and he's continuing to help out team even though he's not on the field."
McCown will make his second straight start and third in four games Sunday when the Bears visit the St. Louis Rams. This season the 34-year-old has completed 61 of 101 passes for 754 yards with five touchdowns, no interceptions and a 100.0 passer rating.
Injury news: Cutler (ankle), linebacker Lance Briggs (shoulder), and defensive tackles Stephen Paea (toe) and Jeremiah Ratliff (groin) will not play Sunday against the Rams.
Safety Craig Steltz (concussion) is listed as questionable on the injury report, while defensive end Shea McClellin (hamstring), nickel back Isaiah Frey (hand), long-snapper Patrick Mannelly (calf) and right tackle Jordan Mills (quadriceps) are probable.
With Paea and Ratliff unavailable, the Bears on Friday elevated defensive tackle Tracy Robertson from the practice squad to the active roster. Robertson entered the NFL in 2012 as an undrafted free agent with the Texans. He has also spent time with the Lions, Patriots and Dolphins, but has not appeared in a regular-season game.
Budding star: Receiver Alshon Jeffery is having a breakout season in his second year with the Bears, ranking second on the team with 54 receptions for 818 yards and three touchdowns.
Jeffery has amassed more than 100 yards in four of his last seven games, including a Bears single-game record of 218 yards in a Week 5 loss to the Saints.
"Every part of his game has gotten better," McCown said. "It's so impressive how hard he works. Every break, every period he's working, he's doing little drills. Him and [receivers coach] Mike Groh are over there doing anything they can do to get better and he's improved in a lot of areas."
McCown is most impressed with the explosiveness that Jeffery shows in running pass routes.
"I feel like he has a plan in his route running and what he's going to do," McCown said. "I think that's critical for a receiver and he's always where he's supposed to be. As a rookie maybe last year just learning a system and getting used to the NFL, maybe he wasn't quite as good at that. But he certainly has improved in that area and several areas and it's a credit to his work ethic."
Alumni on hand: Eleven former Bears players accepted an invitation from Trestman to watch practice Friday in the Walter Payton Center. The group included Ronnie Bull, Rashied Davis, Richard Dent, John Johnson, Anthony Morgan, Jim Thornton, Mike Tomczak, Bob Wetoska, James "Big Cat" Williams, Donnell Woolford and Eric Wright.
"It's awesome," Trestman said. "As I told the players before we broke, the guys that are here laid the foundation for what we have now, and they built the culture of what we have now, and they're part of the Bear tradition. The more we get to know them and to have them around, and it's great to see them, the more we'll get a sense for what this is all about.
"We'll learn something from each and every one of them. I thought it was a good start and it has been to have some guys come around and meet our players and reconnect. They're really a part of a family. Just because they're done playing doesn't mean they're not still part of the family, and they certainly are."