CLEVELAND - Entering Thursday night's preseason finale against the Browns, Josh McCown had no idea whether he needed a good performance to earn a spot on the Bears' 53-man roster.
"All I know is if they paint the field and turn the lights on, you've got to go play, and you go play hard," said the third-string quarterback. "That's the only way I know how to do it. So regardless of how [the Bears] feel, you've got to go out and play hard."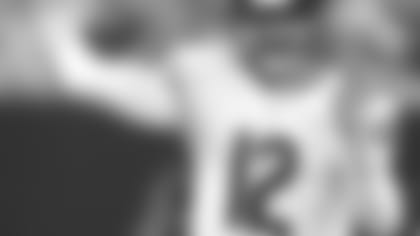 Josh McCown passed for 157 yards and two touchdowns in Thursday night's win.
With Jay Cutler and Jason Campbell watching from the sideline, McCown played the entire game and performed well. The 10-year NFL veteran led the Bears to a 28-20 win by completing 20 of 29 passes for 157 yards with two touchdowns, one interception and a 90.7 passer rating.
The 33-year-old also showed his athleticism and elusiveness, rushing for 16 yards on eight attempts and not allowing the Browns to sack him.
"It felt good," McCown said. "To play a whole game and to get back in it and get the feel and the rhythm of a whole game felt good. There are always a few throws you want back. But for the most part I think we went out and executed pretty well. We moved the ball."
McCown also performed well late last season, completing 34 of 53 passes for 402 yards with two TDs and three interceptions while starting the final two games against the Packers and Vikings. He signed with the Bears last Nov. 23 after coaching high school football in North Carolina.
"We had a great chance to see what Josh could do last year at the end of the year," said coach Lovie Smith. "He's capable. I can still see him playing against the Packers and putting us in position and helping us win the last game against Minnesota."