Bears quarterback Josh McCown and left guard Matt Slauson have been selected to USA Today's 22nd annual "All-Joe" team, which honors unsung NFL players who have never been voted to a Pro Bowl.
Created by longtime USA Today NFL writer Larry Weisman in honor of unheralded former Chiefs defensive lineman Joe Phillips, the All-Joe team pays tribute to "first-rate players who receive second-rate recognition."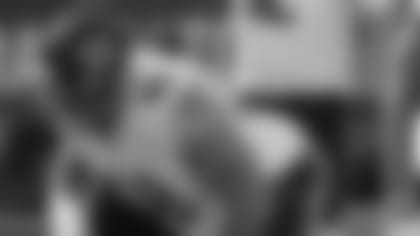 Josh McCown and Matt Slauson helped the Bears offense set records in 2013.
McCown kept the Bears in playoff contention while subbing for an injured Jay Cutler in 2013. Appearing in eight games with five starts, the veteran quarterback completed 66.8 percent of his passes for 1,829 yards with 13 touchdowns, one interception and a 109.0 passer rating that ranked third in the NFL.
McCown led the Bears to a rare victory in Green Bay, was named NFC offensive player of the week after producing five touchdowns in a Monday night win over the Cowboys and became the first quarterback in franchise history to top 300 yards in three straight games.
Slauson signed with the Bears as a free agent in March and started all 16 games at left guard. He was part of a revamped offensive line that helped the Bears rank second in the NFL with 445 points and set team records with 6,109 total yards, 4,450 passing yards, 32 passing touchdowns and 344 first downs.
Bears players who have been named to the "All-Joe team" the previous two years were defensive end Israel Idonije in 2012, and center Roberto Garza and defensive tackle Henry Melton in 2011.