One day after being tabbed NFC offensive player of the week, Josh McCown became the Bears' backup quarterback again Thursday when Jay Cutler was tabbed to start Sunday in Cleveland.
Even after accounting for five touchdowns in Monday night's win over the Cowboys, McCown wasn't shocked or disappointed by the move, which he knew was eventually coming.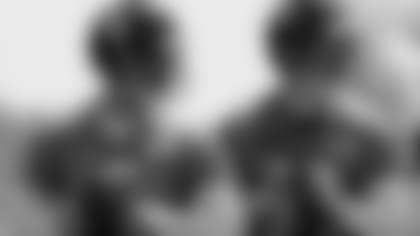 Bears quarterbacks Jay Cutler and Josh McCown have combined for a 98.1 passer rating this season.
"I've said all along my role is as a backup quarterback on this team," McCown said. "When Jay is healthy, he plays. So it's no surprise. I knew he was getting close, so I'm glad he's healthy."
Like every other individual on the Bears' 53-man roster, McCown wants to play. But the 34-year-old understands the nature of his job as Cutler's understudy.
"I want to serve my team as the backup quarterback, go in and play efficiently," McCown said. "Certainly I hope every man in this locker room takes pride in his work and wants to do well.
"I don't think I'd be here if I didn't want to play. You want guys on your team that want to be on the field. But also you want guys on our team that know their roles and understand that. I understand my role on this team. It's the backup quarterback. If Jay is healthy, he's ready to go. I'll support him and help him as much as I can."
Bears coach Marc Trestman praised McCown for how he has dealt with the decision to reinstall Cutler as the starting quarterback now that he's healthy.
"Throughout this whole process and certainly over the last few days, he's been excellent," Trestman said. "He's been probably Jay's biggest support. I called Jay last night at 8 o'clock and Josh and he were working on the game plan at Jay's house. So that's the kind of support that Josh has given Jay throughout and Jay has given Josh."
The debate about whether the Bears should start Cutler or stick with McCown has raged locally and nationally this week, but offensive coordinator Aaron Kromer doesn't view it as a distraction.
"I'm so glad that we're in the situation that we are in, because that means we have two good quarterbacks," Kromer said. "That's much better than having everybody begging for Jay to come back because our backup quarterback didn't play well. We're fortunate to have two good ones at quarterback, and it bodes well for the future."
Appearing in the last seven games with five starts, McCown has completed 66.8 percent of his passes for 1,809 yards with 13 touchdowns, one interception and a 109.8 passer rating.
"I'm proud of him," Cutler said. "There's no one in this building that deserves it more than he does. He's worked extremely hard his entire career. I think he knows he's in a really good position with the offensive talent we have and the coaching staff and he's done a great job of taking advantage of it. He's maximized his opportunity, which is all you can ask a guy."