After Jay Cutler suffered an injury last November against an AFC opponent at Soldier Field, Josh McCown signed a one-year contract with the Bears, leaving North Carolina after the high school football team he helps coach, Marvin Ridge, lost a playoff game to Charlotte Catholic.
The exact same scenario has unfolded a year later, with McCown arriving at Halas Hall Tuesday to provide depth at quarterback after Cutler sustained a concussion in Sunday night's loss to the Texans.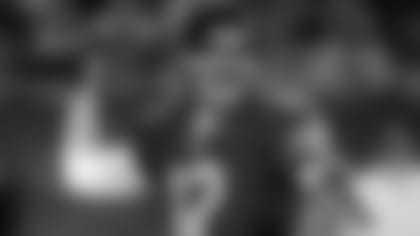 Josh McCown played in all four preseason games this summer for the Bears.

"This is like deja vu all over again," McCown said. "I'm very excited and I'm very thankful to have another opportunity to come back and have the chance to be around these guys. I'm really glad to be here. I have so much respect and love for this organization."

McCown opened last season as a high school coach and closed it as the Bears' starting quarterback after Cutler broke his thumb against the Chargers and Caleb Hanie struggled in his place.

Appearing in three games with two starts, McCown completed 35 of 55 passes for 414 yards with two TDs, four interceptions and a 68.3 passer rating. He also rushed for 68 yards.

McCown re-signed with the Bears in March and spent the entire offseason with them before being released Aug. 31.

Cutler and veteran backup Jason Campbell are the only two other quarterbacks on the Bears' 53-man roster. Matt Blanchard, an undrafted rookie quarterback from Wisconsin-Whitewater, remains on the practice squad.

McCown appeared in all four preseason games this summer. He played the entire finale, completing 20 of 29 passes for 157 yards with two TDs, one interception and a 90.7 passer rating in a 28-20 win in Cleveland.

McCown was disappointed about being cut in August, but is thrilled to be back.

"It was frustrating, but I understood it was a bigger part of their picture and plan and how they want to run their team," McCown said. "You trust that they know best."

McCown, who worked out Tuesday in the Halas Hall weight room and spoke to teammates including Campbell and Brian Urlacher, doesn't think it will take him long to be ready to play.

"I hope not," McCown said. "I felt like I got up to speed last year and I wasn't in training camp. With that thought, I ought to be able to get up to speed. So I'll just dive into the playbook, start watching tape and get myself ready to go and be ready to go if I'm needed."

In last year's season finale in Minnesota, McCown completed 15 of 25 passes for 160 yards with one TD, one interception and a 75.4 passer rating in a 17-13 win at Minnesota.

One week earlier, McCown had completed 19 of 28 attempts for 242 yards with one TD, two interceptions and a 76.8 rating in a 35-21 loss to the Packers in Green Bay.

McCown originally signed with the Bears last Nov. 23 after the team put in a waiver claim but failed to land veteran Kyle Orton, who was awarded to the Chiefs.

Prior to joining the Bears, McCown had started 31 of 47 games played in eight NFL seasons with the Cardinals (2002-05), Lions (2006), Raiders (2007) and Panthers (2009), completing 57.7 percent of his passes for 6,584 yards with 35 touchdowns, 40 interceptions and a 71.3 passer rating.