Free safety Danny McCray's impressive work with the Bears' second-team defense early in training camp earned him a chance to line up with the starting unit in Wednesday's practice.
"We wanted to take a look at him," said coach Marc Trestman. "He's been practicing well. We've said all along the safety position is wide open and we wanted to take a look at him with the first group today. We talked a lot about it yesterday."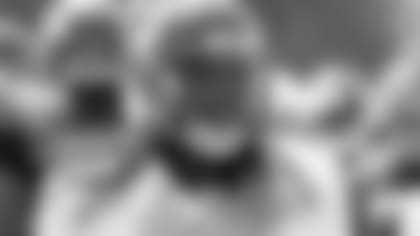 Danny McCray
McCray was excited about getting a chance to work with the No. 1 defense Wednesday.
"It's a big opportunity," he said. "I think that's what we're all here for, open competition, and they're just rolling people around to see what fits and see who can make plays."
McCray signed a one-year contract with the Bears in March. He spent his first four NFL seasons with the Cowboys after signing with Dallas in 2010 as an undrafted free agent out of LSU.
McCray appeared in 60 games with 10 starts for the Cowboys, recording 104 tackles, two interceptions, one sack, two tackles-for-loss, seven pass breakups and one forced fumble. The 6-1, 221-pounder also compiled 73 special-teams tackles, including 28 as a rookie.
All 10 of McCray's career starts came in 2012 when he ranked second on the Dallas defense with a career-high 87 tackles, five pass breakups and one interception.
Asked after Wednesday's practice about wanting to contribute on defense with the Bears, McCray said: "Anything I can do to help the team here. I'm really just coming out here to practice to be the best I can be at every position that I'm put at."
McCray earned his opportunity with the No. 1 defense by excelling in the first four practices.
"He's been in the right place in terms of covering and in terms of the run game," Trestman said. "His effort level has been very high. He's a highly intelligent football player. He's played consistently and continued to ascend over the last few days and we wanted to get a look at him with the ones. That's what we did today and we'll see what the tape shows."
Trestman cautioned against making any assumptions about McCray replacing rookie Brock Vereen, who had worked as the started free safety since OTA workouts in June.
"Brock has really been sharp with his assignments," Trestman said. "I don't think you can read into moving Brock down and Danny up today. We just wanted to see how Brock handles the situation. How does he handle it, moving him around? And how does Danny handle moving up? It all goes into the gathering of information to make decisions at the end.
"Brock is a very mature guy. He's a very bright guy. He's done very well at that position. He's been there a long time. It says something about our feelings toward him. I don't think you can look too far into why we made the change today. We just want to continue to make the competition a competition at the safety position, and that's why we went the way we did."
The battle at safety remains wide open and includes four players the Bears signed from other teams in free agency. In addition to McCray, Ryan Mundy has been working as the starter at strong safety ahead of Adrian Wilson, while M.D. Jennings has been lining up with as a reserve free safety.
Holdovers Chris Conte (shoulder) and Craig Steltz (groin) remain on the physically-unable-to-perform list, but both are eligible to begin practicing at any time. The Bears have said that the two safety positions are interchangeable and the two best players will earn starting jobs.
"It's very competitive, but it's really cool because you get to listen to the experiences from the other guys," McCray said. "We've got a lot of guys with a lot of years. They bring in a lot of stories, some dudes that you played against over the years, so it's pretty cool."