The Bears may face the Redskins Sunday at Soldier Field without a key member of their defense.
Outside linebacker Pernell McPhee, who is tied for the team lead with five sacks, did not practice Friday due to a knee injury and is listed as doubtful, meaning there's only a 25 percent chance he'll play.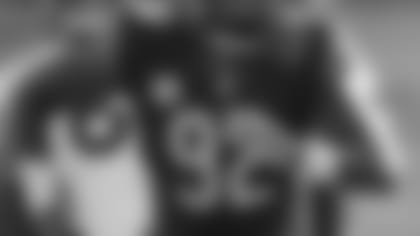 Outside linebacker Pernell McPhee did not practice Friday due to a knee injury and is listed as doubtful


McPhee has been bothered by the injury for more than a month. He sat out a win over the Rams Nov. 15 and has been limited ever since. The 6-3, 280-pounder recorded five sacks in the first seven games of the season but has none in his last four contests.
If McPhee is unable to play Sunday, the Bears would once again count on outside linebackers Willie Young and Lamarr Houston to help fill the void. Both veterans, who suffered season-ending leg injuries last year, have made the most of expanded playing time in recent weeks.
Young has registered 3.5 of his 4.5 sacks and four of his five tackles-for-loss this season in the last three games. Houston has compiled four of his five sacks and four of his five tackles-for-loss this year in his last five outings.
In other injury news, receiver Marquess Wilson (foot) has been ruled out of Sunday's game. Nickel back Bryce Callahan (knee), receiver Eddie Royal (knee), tight end Zach Miller (rib), outside linebacker Sam Acho (shoulder), cornerback Tracy Porter (ankle) and safety Antrel Rolle (knee) are questionable. Inside linebacker Shea McClellin (ankle) is probable.
Just the facts: Coach John Fox declined to confirm a Chicago Tribune report that the Bears have decided that rookie receiver Kevin White will not play in a game this season.
The seventh overall pick in the 2015 draft completed his second straight week of practice Friday but remains on the physically unable to perform list as he recovers from leg surgery. The Bears have until Tuesday to place White on the 53-man roster or put him on season-ending injured reserve.
"I think I have expressed we have until Tuesday," Fox said. "We just take it a day at a time. There's always a lot of reports. Then there are facts."
Post-season dreams: Last Sunday's overtime loss to the 49ers seemingly ended the Bears' realistic playoff chances, but their players aren't giving up hope.
"Anything happens," quarterback Jay Cutler told reporters. "You guys know this league, it gets crazy in December. With that being said, we're still [focusing on] one game at a time. We're worried about the Washington Redskins and hopefully we can take care of that and we'll move on from that."
If the Bears (5-7) win their final four games, they would finish 9-7. But that probably won't be good enough to earn a playoff spot. Over the last six years, the second and final wildcard in the NFC has finished with marks of 11-5 three times and 10-6 three times.
Fun to watch: Cutler has enjoyed the recent emergence of running back Ka'Deem Carey. The second-year pro has rushed for 133 yards and one touchdown on 35 carries this season—all in the last five games.
"He's still got a lot of energy," Cutler said. "He's still a fun guy and a little bit of a goofball out there, but he takes things a lot more seriously now. He wants the ball. He's very hungry to get the ball. When he gets it, usually good things happen. We've got to try to find ways to keep him involved and get him touches because he's so explosive back there. You hand him the ball and it's like a rocket took off. He's fun to watch."