"It's always fun beating the Bears."
You might have forgotten those words that Packers quarterback Aaron Rodgers uttered Sept. 13 after a Week 1 win over the Bears at Soldier Field. But Pernell McPhee didn't.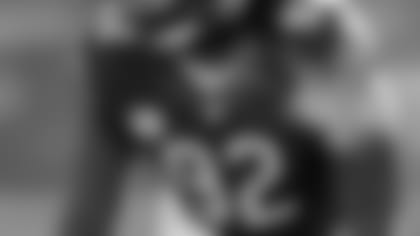 Outside linebacker Pernell McPhee is tied for the Bears lead with five sacks.
The first-year Bears outside linebacker said Monday that he and his teammates took that comment personally and used it as motivation in the Thanksgiving night rematch in Green Bay.
The Bears won that game 17-13 behind an inspired defense that limited Rodgers to a 62.4 passer rating, his lowest in 61 career regular-season games at Lambeau Field. Rodgers had won the previous 10 contests he had started and finished against the Bears, throwing 13 touchdown passes and no interceptions in the last three games.
"The quarterback said he loved beating up on us," McPhee told reporters. "Who does he think we are? We ain't the team of last year or two years ago, three years ago. It's 2015 Chicago.
"A lot of guys took it personal, especially when somebody said I love beating up on your brother. I ain't gonna let nobody come beat my little brother up. We went in there and we slapped them on his ass. They need to go ask them how that feels."
On a roll: Tracy Porter has been playing at a Pro Bowl level the past several weeks and had his best game of the season in Green Bay. The veteran cornerback intercepted Rodgers late in the contest and broke up five passes, including one in the end zone with seconds remaining.
"It definitely heightens the confidence a little bit, but like I've said time and time again, confidence in my play was never in question, my skill set was never in question, it was just me being healthy," said Porter, who missed the first two games of the season with a hamstring injury.
"I said once I'm fully healthy I know what I can do. Everyone in this locker room and in the front office, they know what I can do, otherwise they wouldn't have brought me here."
Porter signed with the Bears in June after spending his first seven NFL seasons with the Saints (2008-11), Broncos (2012), Raiders (2013) and Redskins (2014).
Defending the run: While the Bears defense has been playing well of late, allowing just six touchdowns in its last five games, the unit has struggled against the run the last two weeks.
After allowing an average of 123.7 yards on the ground over their first nine games, the Bears have permitted 170 and 177 rushing yards to the Broncos and Packers, respectively.
"We're not doing good in the run game right now, so hopefully we can tighten up the screws," McPhee said. "Our secondary is doing a great job of covering; they did that all year. But we've just got to get better in the run defense and that's what our focus has got to be in because San Fran is going to come in here [Sunday] and probably try to run the ball down our throats."
Never easy: Coach John Fox explained the decision to switch long-snappers Saturday, when the Bears waived veteran Thomas Gafford and signed Patrick Scales, formerly of the Ravens.
"Those changes are never easy," Fox said. "Thomas Gafford did a lot of great things for us. He was a good man, the kind of guy [you want] in this building.
"We struggled over the last three weeks a little bit in our consistency, in particular our short snaps. We had one go a little bit haywire in the Green Bay game. At the end of the day, all our decisions are based on what makes this team better and what's better for this football team."
Roster moves: The Bears on Monday signed center Cornelius Edison to the practice squad to replace center Barrett Jones, who was signed to the Eagles' 53-man roster. Edison is an undrafted free agent from Portland State who was voted the top center in the nation at the NCAA FCS level.