Veteran outside linebacker Pernell McPhee was honored as the Bears' recipient of the Ed Block Courage Award Tuesday at Maryville Academy in Des Plaines.
The prestigious awards are presented to one player on all 32 NFL teams who best exemplifies a commitment to sportsmanship and courage and serves as an inspiration in the locker room. The award recipients, who are voted for by their teammates, symbolize professionalism, great strength and dedication, and they are considered community role models.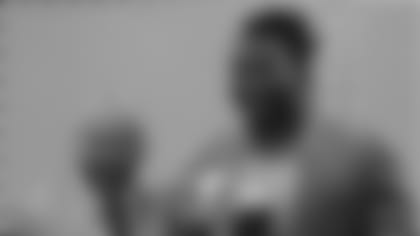 Veteran outside linebacker Pernell McPhee was honored as the Bears' recipient of the Ed Block Courage Award.


"It means a lot," McPhee said. "I'm grateful for it. I'm thankful. But most of all I thank God that I'm healthy. I'm getting back right and it's a matter of time until I get on the field."
McPhee won the award in large part because he overcame a knee injury that hampered him over the second half of the 2015 season and forced him to miss the first six games last year. He finished the 2016 campaign with 28 tackles and four sacks in nine games.
Those who attended Tuesday's luncheon included Bears chairman George H. McCaskey, Bears vice president Patrick McCaskey, and former players Anthony Adams and Roland Harper. The event was emceed by Bears radio play-by-play announcer Jeff Joniak.
The Ed Block Courage Award luncheon also honors the late Ed McCaskey by raising money for a fund in his name that provides high school, college and vocational scholarships to the children of Maryville. During his tenure with the Bears—first as vice president and treasurer and later as chairman and chairman emeritus—McCaskey was known for his generosity to Maryville.
"We are grateful to the Bears for their support," said Sister Catherine M. Ryan, Maryville's executive director. "This scholarship advances our mission to help children make a successful transition to adulthood, to become contributors to their communities and citizens of the world."
An individual who exemplifies that mission, John Brdecka, spoke at Tuesday's luncheon. He is a former Maryville resident and scholarship recipient who is now head of the print collection management department at Northwestern University.
Ed Block was a long-time head trainer with the Baltimore Colts who was a pioneer in his field. The foundation promotes the prevention of child abuse by raising awareness of the epidemic and assisting agencies that provide for the care and treatment of abused children.
Block and his wife dedicated their lives to helping children in distress as foster parents and advisers. There are 23 Courage Houses connected with NFL teams and this is the 38th year the awards have been presented.