When the Bears signed outside linebacker Pernell McPhee in free agency last year, they envisioned a player who would bring toughness, leadership and attitude to their defense.
Although his production dipped late in the season when he was slowed by a knee injury, McPhee did in fact provide everything the Bears had anticipated and more.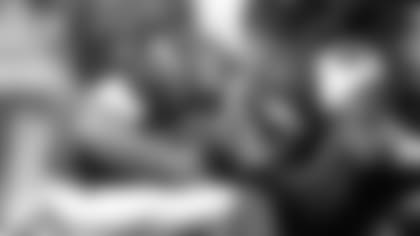 Pernell McPhee sacks Alex Smith during the Bears' Week 5 win over the Chiefs.* *

"He's been as advertised," coach John Fox said early in the season. [General manager] Ryan Pace and his department did a good job of identifying him. Our coaches did a good job of evaluating and researching. There's a temperament he brings that's invaluable."
That temperament was evident in training camp when McPhee told reporters he wanted to help the Bears defense instill fear in opposing offenses. The 6-3, 280-pounder did his part in 2015, recording six sacks, 10 tackles-for-loss, one interception and one forced fumble.
For his performance and impact on the defense, ChicagoBears.com has selected McPhee as the Bears' Defensive Player of the Year. Other candidates included outside linebackers Lamarr Houston and Willie Young, both of whom rebounded from season-ending leg injuries in 2014; as well as cornerback Tracy Porter.
McPhee signed with the Bears last March after spending his first four seasons with the Ravens. Selected by Baltimore in the fifth round of the 2011 draft out of Mississippi State, McPhee appeared in 60 games with six starts, compiling 92 tackles, 17 sacks, 24 tackles-for-loss, three forced fumbles, one fumble recovery and seven pass breakups.
McPhee also played in eight playoff games with the Ravens, registering eight tackles, 1.5 sacks, one forced fumble, one fumble recovery and three pass breakups.
As a rookie in 2011, McPhee won a Super Bowl ring while playing in all 16 games and recording six sacks. He produced a strip/sack against Peyton Manning in a divisional playoff win over the Broncos and tipped a Tom Brady pass that resulted in an interception in a victory over the Patriots in the AFC Championship Game.
Despite playing behind Terrell Suggs and Elvis Dumervil, McPhee had a breakout season in 2014, compiling career highs with 7.5 sacks, 27 tackles and 11 tackles-for-loss.
In his first year with the Bears, McPhee recorded 32 tackles and five sacks during a five-game stretch before being limited by a sore knee. He missed two games and was slowed in others.
"Credit to him; he battled through that," Pace told reporters Jan. 4. "It was just something he had to fight through, and I think he showed a lot of toughness in doing that. He's obviously one of our leaders, one of our bell cows. His production dropped off some, but I still think he was an asset for us."