NFL Network analyst Michael Robinson seemingly is a big fan of Pernell McPhee, predicting that the Bears' outside linebacker will be "the steal of free agency this year."
"You talk about what [Bears defensive coordinator] Vic Fangio can do with this guy," said Robinson, a fullback who played eight NFL seasons with the 49ers (2006-09) and Seahawks (2010-13). "In nickel situations when they have three down linemen, this guy walks around in the box. He confuses running backs. He confuses offensive linemen.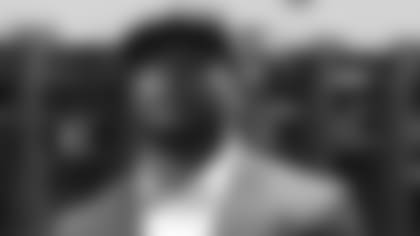 Pernell McPhee left the Ravens for the Bears, signing early in free agency.
"Vic Fangio will find the mismatches he needs to make this guy a Pro Bowl player this year."
The Bears signed McPhee to a five-year contract in March on the second day of free agency. The 6-3, 280-pounder is a versatile and aggressive playmaker who lined up at outside linebacker, end and tackle the past four seasons with the Ravens.
Selected by Baltimore in the fifth round of the 2011 draft out of Mississippi State, McPhee appeared in 60 games with six starts the past four years, compiling 92 tackles, 17 sacks, 24 tackles-for-loss, three forced fumbles, one fumble recovery and seven pass breakups.
McPhee also played in eight playoff games with the Ravens, registering eight tackles, 1.5 sacks, one forced fumble, one fumble recovery and three pass breakups.
As a rookie in 2011, McPhee won a Super Bowl ring while playing in all 16 games and recording six sacks. He produced a strip/sack against Peyton Manning in a divisional playoff win over the Broncos and tipped a Tom Brady pass that resulted in an interception in a victory over the Patriots in the AFC Championship Game.
McPhee had a breakout season in 2014, compiling career highs with 7.5 sacks, 27 tackles, 11 tackles-for-loss and four pass breakups.
Asked about McPhee's strengths Wednesday at Bears minicamp, coach John Fox said: "He's a powerful man. When you put him over a tight end or even put him over a tackle, I think he matches up well. Right now on what I've seen his strengths are more going forward than going backwards.
"I see a big, powerful guy that's got some flexibility in a system, whether it's in a 30-scheme where he's a penetrating rusher inside, or even off the edge."