After sitting out the Bears offseason program while recovering from knee surgery, outside linebacker Pernell McPhee will open training camp on the physically-unable-to-perform list.
"We've just got to acclimate him into football activities, so he'll work with the trainers," general manager Ryan Pace said Wednesday during a press conference in Bourbonnais.
"In the OTAs, he wasn't doing a lot of football stuff. He was doing stuff on the side with our strength and conditioning coaches. Now it's just going to be, 'How do you feel?' as we build him back in instead of just throwing him out there right away with full speed football drills."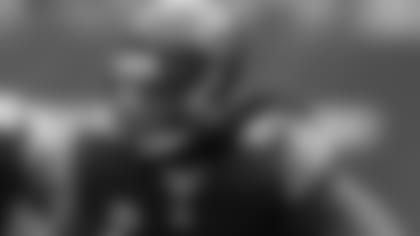 Pernell McPhee spent his first four NFL seasons with the Ravens before joining the Bears.


McPhee can be removed from the PUP list and begin practicing at any point during training camp. Asked Wednesday if the sixth-year pro will play in the preseason, Pace said: "It's too early to tell. We've got to see how he is as we're kind of going through these activities out here."
Pace said that McPhee reported to camp weighing in "the upper 270s" after playing in the 280s last year in his first season with the Bears.
"The good thing is that he came in at a really good weight today," Pace said. "So I know he's been working hard over the summer, so that's very encouraging.
"Just talking to our sports science staff, we just feel if he can play in the 270s, he's going to be quicker, [it will be] better on his knee and [he can] still maintain the same power.
"The lighter you are, the less pressure there is on your knees. For him, playing at a lighter weight is going to be better because he's always going to be strong. He's just got to keep his weight down a little bit."
Signed by the Bears in free agency a year ago, McPhee quickly became the heart and soul of the defense, bringing toughness, attitude and leadership to the unit. He was dominant during an early five-game stretch, registering 32 tackles and five sacks.
But McPhee's production dipped late in the year after he injured his knee. He ended the season with 64 tackles, six sacks, 10 tackles-for-loss, one interception and one forced fumble in 14 games.
"He's definitely powerful at the point of attack," said coach John Fox. "He's big and strong. When he's over a tight end, he's hard for most tight ends to handle. Even with the weight and all that stuff, the key thing is he gets his knee healthy. When healthy, I think you saw what he's capable of early last season."
Receiver Marquess Wilson, who broke his foot last month during minicamp, and recently-signed offensive lineman Amini Silatolu, who is recovering from a torn ACL, also will open training camp on the PUP list.