Free-agent acquisition Pernell McPhee is determined to put some teeth back into a Bears defense that lost both its bark and its bite over the past two seasons.
"That's what we're going to do this year: put fear in other teams' offenses," McPhee said. "When they see us come out there they're going to be like, 'Whoa, these guys are playing, everybody flies to the ball, everybody's being very aggressive.'
"Me and the guys talk and I'll [say], 'Hey, we need to be the aggressors. We need to be the attackers, not the ones being attacked.' That's our mindset right now. That's what we're working toward."
A versatile and aggressive outside linebacker, McPhee signed with the Bears in March after spending his first four NFL seasons with the Ravens. The 6-3, 275-pounder blossomed last year in Baltimore, establishing career highs with 7.5 sacks, 27 tackles, 11 tackles-for-loss and four pass breakups.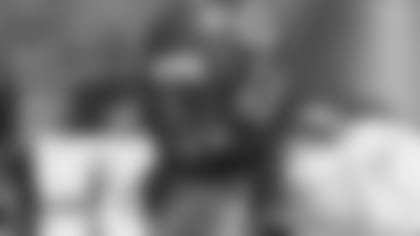 Pernell McPhee during a defensive drill.
After playing behind Terrell Suggs and Elvis Dumervil with the Ravens, McPhee hopes to emerge as one of the Bears' leaders and top performers on defense.
"That's one of my goals is to come out and bring that image of being violent, being a leader and being a great guy," McPhee said. "That's my focus right now."
Real football: After opening training camp with non-contact practices Thursday and Friday, the Bears will conduct their first padded workout Saturday in Bourbonnais.
"It's very hard to duplicate padded football without pads," said coach John Fox. "The game is a little bit more physical, a little bit more realistic in pads, so we're all excited to do it. I'm sure the players are excited and so are the coaches."
Practicing in pads provides a better opportunity for coaches to evaluate players.
"That's going to really show who's got the dog in them and who doesn't," McPhee said. "That's what it boils down to at the end of the day on defense—who's got the dog in them and who is going to be physical and violent."
Practice notes: Tight end Dante Rosario was excused from Friday's practice for personal reasons. Rookie defensive tackle Eddie Goldman exited early due to dehydration. Cornerback Kyle Fuller was held out of drills late in the session after tweaking his ankle.
Fuller fan: First-year Bears receiver Eddie Royal has been impressed with Fuller. The 14th overall pick in the 2014 draft, Fuller topped the Bears defense as a rookie with nine pass breakups and three forced fumbles and tied for the team lead with four interceptions.
"I think he's a great young player," Royal said. "He's scrappy. He's got long arms. He's good with jamming. He's got all the intangibles in the world. That's what kind of stood out to me from the beginning. Last year, just all the fumbles that he caused. That's key. It's not about just coverage all the time. It's about tackling and creating turnovers and he did a great job with that last year."
New addition: The Bears on Friday signed guard Tyler Moore, an undrafted rookie from Florida. Moore appeared in 19 games with 14 starts the past two seasons with the Gators after spending the 2011 season at Nebraska, where he played in nine contests with four starts.