ESPN analyst Todd McShay has chosen the Bears' selection of Minnesota safety Brock Vereen in the fourth round as the best pick by any NFC North team in the draft.
Vereen appeared in 47 games with 36 starts at all four secondary positions over four seasons at Minnesota. Last year he registered 59 tackles, six tackles-for-loss and one interception while starting the first six games at safety and the final seven contests at cornerback.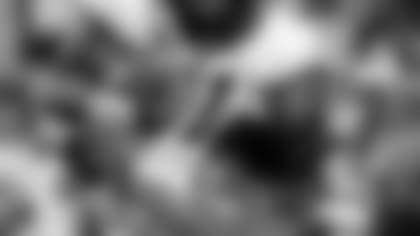 Bears fourth-round draft pick Brock Vereen intercepts a pass against UNLV.
"The Bears want versatile, explosive defensive backs, and Vereen fits the bill here," McShay wrote. "He has excellent closing burst and versatility, and he's willing to come up and support the run. He should be able to contribute in sub packages for the Bears. I love the way Vereen plays the game."
Standing tall: At 6-feet and 199 pounds, Vereen doesn't possess optimal size. But he makes up for it by studying opponents and utilizing his quickness and instincts.
"In the Big Ten, you're going to see a lot of the big receivers," Vereen said. "With some of those bigger guys, the more film study you can do on them to get any advantage to use as far as their timing and how they like to use their body, you can play big with them."
Vereen is also very strong for his size, as evidenced by the 25 reps of 225 pounds he did at the NFL Scouting Combine, the most by any safety.
"At Minnesota we had a great weight program and hopefully the strength I built there will carry over to the field," Vereen said.
You've got Mel: ESPN analyst Mel Kiper Jr. gave the Bears a 'B-' grade for the draft.
"The Bears have some questions on value, but I think they did a solid job of targeting needs," Kiper wrote. "Kyle Fuller may not be a star at CB, but the floor is probably a really good player for a long time. I didn't mind that pick at all, especially after Cleveland moved up to get Justin Gilbert, who isn't superior to Fuller. Ha Ha Clinton-Dix would've been a solid pick here as well."
Tackle tandem: Convinced that the Bears were not going to draft defensive tackles with back-to-back picks, Arizona State's Will Sutton thought his chances of being selected by the team were slim after LSU's Ego Ferguson was chosen in the second round.
"When Ego from LSU got drafted, I was like 'Man, it looks like I'm not going to be a Bear,'" Sutton said. "But then they got me in the third round. I bet they think that us two can make a good tandem together. Either he plays nose and I play three-tech or vice versa; whatever they want us to play. I feel like us two can come in and really do some damage."
This year marked the first time the Bears have drafted two defensive tackles in the first three rounds since 2004 when they picked Tommie Harris in the first round and Tank Johnson in the second.
Lesson learned: Asked about draft analysts who claim he has a "hot and cold motor," Sutton vowed not to let any criticism bother him like it did last season at Arizona State.
"You just have to go out there and prove them wrong," Sutton said. "That's what happened to me going into my senior year; I let that get to me and I can't let that get to me anymore. I just have to go out there and stay true to who I am and listen to the people who really have a say-so in what I do, like my coaching staff and my parents."