In 2011, Bears defensive tackle Henry Melton was selected to USA Today's annual "All-Joe" team, which honors unsung NFL players who have never been voted to a Pro Bowl.
Melton was recognized after recording a career-high seven sacks, third most by a defensive tackle in the NFL behind the Bengals' Geno Atkins and the Raiders' Tommy Kelly, who had 7.5 apiece.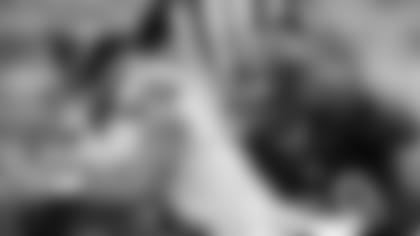 Bears defensive tackle Henry Melton pressures Seahawks quarterback Russell Wilson.
Stepping up his game to another level in 2012, Melton ensured that he no longer would be eligible for the All-Joe team by being voted to his first career Pro Bowl.
No one has enjoyed the week leading up to tonight's annual all-star game in Hawaii more than Melton, who is one of four Bears defenders slated to start the contest.
"It's been really exciting," Melton told ChicagoBears.com. "You're around a lot of future Hall of Famers. It's really special to be a part of this moment."
Melton earned his way to Hawaii by registering 33 tackles with six sacks, five tackles-for-loss, a team-high 24 quarterback pressures and two forced fumbles. Melton forced one fumble on second-and-goal from the 1 that was recovered by Brian Urlacher in a 13-7 win over the Lions.
Melton has spent much of the week in Hawaii lounging around the pool, getting to know the other Pro Bowlers. He's been hanging around with Buccaneers defensive tackle Gerald McCoy and running back Doug Martin.
A Texas native, Melton posted a photo on his Instragram account of him with Cowboys tight end Jason Witten, and laughed when asked about a picture that McCoy posted online of NFC defensive tackles Melton, McCoy and the Lions' Ndamukong Suh.
"He's cool," Melton said of Suh, a longtime Bears nemesis. "He gets a bad rap for a lot of the stuff he does on the field. Off the field, he's a normal cool guy."
Melton is excited that he'll be joined on the NFC starting defense by three Bears teammates in cornerbacks Charles Tillman and Tim Jennings and defensive end Julius Peppers.
Tillman tied for the NFL lead with three interception return touchdowns and led the league with a career-high 10 forced fumbles, tied for the most in a single season since the NFL started tracking the statistic in 1991. He also established a Bears record with nine career defensive touchdowns.
Jennings led the NFL with nine interceptions, the first Bears player to do so since 1990 when Mark Carrier had 10. Jennings returned one pick 25 yards for a touchdown to fuel a comeback win over the Panthers and became the first Bears player to intercept two passes in three games in a season.
With a team-high 11.5 sacks, Peppers became the first Bears player to reach double digits in back-to-back seasons since Rosevelt Colvin in 2001-02. Peppers, who had 11 sacks in 2011, is the first Bears player with at least 11 sacks in consecutive years since Hall of Famer Richard Dent in 1986-87.
Bears receiver Brandon Marshall was also voted to the Pro Bowl, but he had to pull out of the game after undergoing arthroscopic hip surgery.