The Bears on Tuesday honored tight end Zach Miller and safety Adrian Amos as the 2015 winners of the prestigious Brian Piccolo Award during a ceremony at Halas Hall.
The honor has been given to a Bears rookie since 1970 and was expanded in 1992 to include a veteran. Bears players vote for teammates who best exemplify the courage, loyalty, teamwork, dedication and sense of humor of Brian Piccolo, a Bears running back who died from embryonal cell carcinoma on June 16, 1970 at the age of 26.
"It truly is an honor and a privilege to be a part of this team and accept this award in Brian's name," Miller said. "His display of hard work, determination and friendship are things that I want to emulate. He was a great football player, but an even better human, a friend who you could count on at all times. He was the ultimate man's man who worked hard and did everything the right way. I hope one day that I'm viewed as such."
Miller's emergence last year was one of the Bears' most pleasant surprises in 2015. After missing the previous three full seasons primarily due to injuries, he caught 34 passes for 439 yards and a team-leading five touchdowns.
The success was a long time coming for Miller, who hadn't played in an NFL game since 2011. After appearing in 33 contests with five starts with the Jaguars from 2009-11, he spent the 2012 season on injured reserve with the Jaguars, failed to make the Buccaneers roster in 2013 and landed on injured reserve again with the Bears in 2014.
Last November, Miller made a remarkable one-handed game-winning 25-yard touchdown catch against the Chargers and followed six days later with two TD receptions, including an 87-yarder in a rout of the Rams that was the Bears' longest play from scrimmage last season.
Miller, 31, traveled a unique path to the NFL even before he was bitten by the injury bug. A quarterback at Nebraska-Omaha, he was immediately converted to tight end after being selected by the Jaguars in the sixth round of the 2009 draft. His only experience at his new position in college came in the Cactus Bowl, a Division II all-star game.
Amos was selected by the Bears in the fifth round of last year's draft out of Penn State. He started all 16 games and led the team with 108 tackles while also registering three tackles-for-loss, one sack and four pass breakups.
"This honor exemplifies the character of a person," Amos said. "The words that are used are courage, loyalty dedication and teamwork—things that I work on every day. I'm proud to be associated with those words and this award as I'm proud to be a part of the Bears organization."
The Piccolo Award holds special significance to Amos due to who selected him as the winner.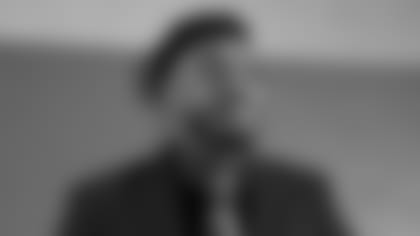 Safety Adrian Amos was honored as one of the 2015 winners of the prestigious Brian Piccolo Award.


"I'm grateful for this award because it's voted on by my teammates," Amos said, "my teammates that are there every day, that see the day-to-day grind, see the struggles and see the injuries. They have to overcome the same obstacles that I have to every day, so for them to vote me for this award is a huge honor."
Patrick McCaskey emceed Tuesday's ceremony. Coach John Fox introduced offensive coordinator Dowell Loggains and defensive coordinator Vic Fangio, who presented the awards to Miller and Amos, respectively.
Ownership was also represented by Virginia McCaskey, George McCaskey and Brian McCaskey. Members of the Piccolo family in attendance included Joy Piccolo O'Connell, Brian Piccolo's widow, and two of their three daughters, Traci and Kristi. Joy accepted a $50,000 annual donation from the NFL.
Previous winners of the Piccolo Award who were on hand for Tuesday's ceremony included Brian Baschnagel, Roland Harper, Jim Osborne and Chris Zorich.
Piccolo joined the Bears in 1965 as an undrafted free agent after leading the nation with 111 points and 1,044 yards rushing as a senior at Wake Forest. He was in his fourth NFL season when a chest x-ray revealed a malignancy. Piccolo passed away several months later.
When Piccolo died, the disease he had was virtually 100 percent fatal. But today, thanks in part to the millions of dollars raised by the Brian Piccolo Cancer Research Fund, the cure rate is more than 95 percent.
Proceeds from the organization currently benefit cancer research at Rush University Medical Center and Sloan Kettering Cancer Center with an emphasis on finding a cure for breast cancer. The fund has raised more than $8.5 million since 1991.