After missing nearly two weeks with a concussion, Bears tight end Zach Miller returned to practice Saturday at Halas Hall on a limited basis.
"It's never fun standing on the sideline and watching or sitting inside and watching," Miller said. "It's hard to do that, but I'm happy to be back out here now."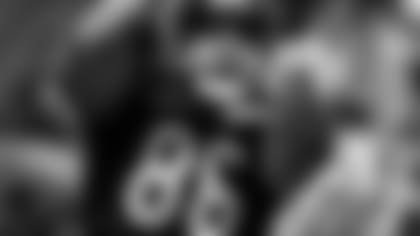 Zach Miller catches a pass during practice.


Missing any time is especially difficult for Miller given his history. He had a breakout 2015 season—catching 34 passes for 439 yards and a team-high five touchdowns—after sitting out the three previous years primarily due to injuries.
Miller emerged as the Bears' No. 1 tight end during the second half of last season and was continuing to perform well in training camp before suffering a concussion during a live goal-line drill in practice. Now that Miller is healthy, the plan is to ease him back into action as he works on his conditioning.
"I haven't ran in 10 or 11 days," Miller said. "I've been doing stuff off the field, but you can't replicate football shape, so I'll ease into it as we move forward, and as I start feeling better with that stuff we'll increase it each day."
The Bears hope to see Miller continue to progress in practice Sunday at Halas Hall before the team heads to New England for joint workouts with the Patriots Monday, Tuesday and Wednesday followed by a preseason game Thursday night.
"He'll practice again tomorrow, see how he feels and reacts to that and we'll kind of evaluate it once we get up to Providence in our preparation for New England," said coach John Fox.
All is well: The Bears certainly didn't perform as well as they expected in Thursday night's 22-0 preseason-opening loss to the Broncos. But they're not ready to panic.
"It's a great teaching tool watching that tape," Fox said. "Negative things that happened are very easily fixed. I think the guys responded to it well. We expect more; they know it. They expect more themselves. But it wasn't all bad. It's just things are very correctable."
Asked about the positives he saw, Fox said: "I think the effort was outstanding. I thought we played physical. Like first preseason games, your tackling is not as crisp as it should be. They haven't done it in a few months.
"The execution, I'm a little disappointed in some of the early downs by our first [string]. Again, you don't game plan. You play soft coverage, they get it out quick. That can get frustrating as a coach because you're not game-planning. But [there were] things that I think are easily correctable and we're anxious to make those steps in Game 2."
Day at practice: Tight end Tony Moeaki produced the top play in Saturday's practice at Halas Hall, outleaping two defensive backs to haul in a Jay Cutler pass in the end zone for a touchdown. The two connected for another impressive completion as Cutler lofted the ball over linebacker Jerrell Freeman. … Receiver Deonte Thompson made a tremendous diving catch near the sideline. … In addition to Miller, tight end Greg Scruggs (bruised lung) and outside linebacker Roy Robertson-Harris (illness) also returned to practice on a limited basis Saturday. … Players injured in Thursday night's game who did not practice Saturday included running backs Ka'Deem Carey (concussion) and Senorise Perry (hamstring), defensive end Cornelius Washington (ankle/knee) and safety DeAndre Houston-Carson (neck/concussion).
Roster moves: The Bears on Saturday signed veteran offensive linemen Khaled Holmes and Shelley Smith and waived undrafted rookie offensive linemen Dan Buchholz and Donovan Williams.
Holmes spent the past four seasons with the Colts, appearing in 17 games with nine starts after being selected by Indianapolis in the fourth round of the 2013 draft out of USC.
Smith was chosen by the Texans in the sixth round of the 2010 draft, but he did not play in an NFL regular season game until 2012 with the Rams. He appeared in 36 contests with 11 starts over three seasons with the Rams (2012-13) and Dolphins (2014).
"We're always looking to get better," Fox said. "We'll see how that pans out. Obviously they're a little behind as far as knowledge of our systems. But our coaches will work with them and hopefully get them schooled up by Thursday."