One Bears player to watch in Saturday night's preseason game against the Bengals is tight end Zach Miller, who's battling for a backup role behind starter Martellus Bennett.
Miller played in 33 games with five starts in three seasons with the Jaguars from 2009-11, catching 45 passes for 470 yards and four touchdowns. But the 6-5, 240-pounder has not played in an NFL regular-season game since 2011 due primarily to injuries.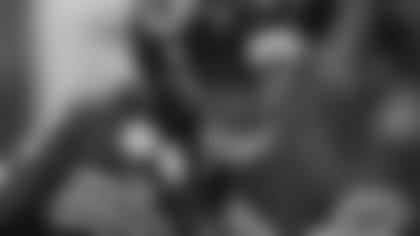 Zach Miller getting set for a block against the Colts in preseason.
Miller performed well in training camp last summer and caught six passes for 68 yards and two touchdowns in a preseason-opening win over the Eagles. But he sustained a season-ending foot injury the following week in a victory over the Jaguars.
"I think we're using him a little bit better for his skill set now," said quarterback Jay Cutler. "He's still coming off that [foot] injury. He was a little bit slow in spring ball and we were kind of easing him along. Hopefully these next two [preseason] games we can get him in some space and let him kind of do his thing and use his skills the best he can."
Miller was selected by Jacksonville in the sixth round of the 2009 draft out of Nebraska-Omaha. After playing quarterback in college, he was immediately converted to tight end in the NFL. His only experience at the new position in college came in the Cactus Bowl, a Division II all-star game.
Miller spent the first six weeks of the 2012 season on injured reserve with the Jaguars before he was released. He then spent the 2013 offseason with the Tampa Bay Buccaneers, but was waived in late August.
Running men: While injuries have thinned their receiver position, the Bears remain deep at running back with Jacquizz Rodgers, Jeremy Langford, Ka'Deem Carey and Senorise Perry among those competing for backup jobs behind starter Kyle Long.
"I wouldn't want to be the guy that has to make that decision," Cutler said. "Quizz has had a great preseason. Langford's had a good preseason. Ka'Deem's come on. He's ran the ball extremely hard."
After two preseason games, Perry leads the Bears in rushing with 14 carries for 90 yards, followed by Langford (13-81), Rodgers (16-67) and Carey (12-47).
"I know [running backs coach] Stan [Drayton] is doing a great job with those guys making sure they're on their stuff," Cutler said. "Every time you give a guy the ball, it seems like they're getting some chunks here and there. So I don't know how it's going to shake out."
Good work: With left tackle Jermon Bushrod and right tackle Jordan Mills missing some practices due to injuries, second-year pro Charles Leno Jr. Jr. has lined up at both spots at times.
While that's not an ideal situation for a young player, the Bears need their reserves to be able to play multiple positions in case they're needed to step in due to an injury during a game.
"The verbiage is similar, but technique-wise it's just different," said coach John Fox. "Your sets are different, your post foot's different; things that technically they have to do. But all-in-all I think it's good work [rather] than just all of a sudden throw him on a side and say 'have at it' during the middle of a game."
Looking to improve: In the Bengals, the Bears will face a 2014 playoff team for the second straight week. But there isn't a team in the NFL that Fox will take lightly.
"There aren't any cupcakes in this league," he said. "About the time you start thinking that you get bit. Miami was close to a playoff team a year ago. Indy last week was in the AFC Championship Game. Cincinnati has been a pretty consistent performer.
"They're all big challenges for us and we are just looking to improve."