The opening sentence in any piece of written content should grab the readers' attention and make them want to keep reading.
Bears second-round pick Anthony Miller accomplished that objective in a letter to NFL general managers he penned for "The Players' Tribune" prior to the draft.
"My name is Anthony Miller, and I think I'm the best wide receiver in this draft class," the Memphis product wrote.
Miller mentions that he led the nation with 18 touchdown receptions, but stresses the reason an NFL team should draft him is due to "something that's inside of me" that "can't be measured with a stopwatch or scale."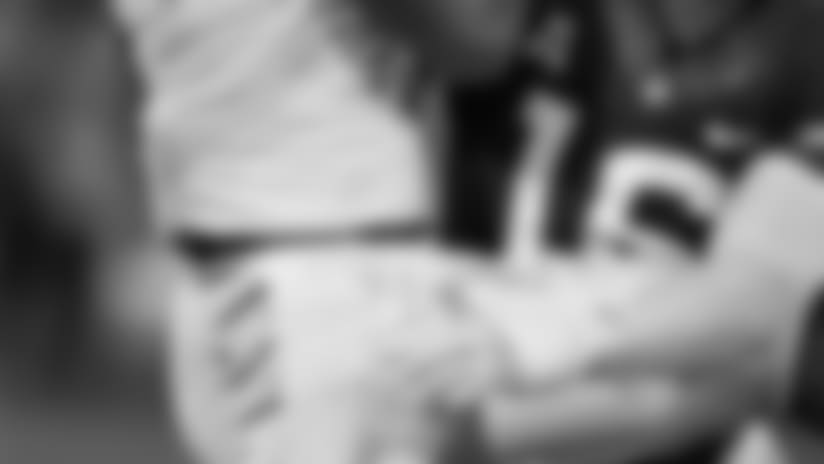 Anthony Miller catches a pass for a touchdown during a 2017 Memphis game.


"It's hard for me to imagine another person who loves football as much as I do," Miller wrote. "Football isn't just a sport for me. This is my identity. And I plan to have a really, really long career. Hopefully it will be for your team."
Miller reveals that he became his high school's all-time leading receiver, but he didn't receive a single scholarship offer because some coaches felt he was too small and too slow. Miller eventually walked on at Memphis, where his father played, and mentions that his dad started putting him through football drills when he was five years old.
"The one lesson he ingrained in me that I think made the biggest difference wasn't about a particular skill," Miller wrote. "It was bigger than that. He taught me how to play with an edge. He taught me a way of handling myself so that even if opponents didn't think I was a good athlete, they damn sure knew I was a great football player."
With that in mind, Miller adopted the same attitude that former NFL receiver Steve Smith possessed throughout his career.
"He represents the kind of player I want to be," Miller wrote. "What I loved about his style was that he didn't just play the game, he attacked the game. … I'm fine with being doubted. I love it actually. That's part of what's fueled me up to this point. It gives my game that Steve Smith kind of edge that I need."
Miller eventually earned a scholarship at Memphis and blossomed as a junior in 2016, setting school records with 95 receptions, 1,434 yards and 14 touchdowns. His encore was even better in 2017 when he eclipsed all three of those marks with 96 catches, 1,462 yards and 18 TDs.
Miller closes his letter to the GMs with a simple message.
"If you're looking for a raw athlete that you want to mold into a football player, there are plenty of other prospects you should consider," he wrote. "But if you're looking for someone who will join your organization with the expectation of making plays every single game, well, I'm looking forward to hearing from you."
After trading up to select Miller with the 51st pick, Bears general manager Ryan Pace said that he had read the letter the receiver had written for "The Players' Tribune" and described it as "powerful."
"It just echoes with what we already knew about him as a person, about his makeup," Pace said. "When our scouts go through there and talk to coaches, equipment guys and trainers and you hear all that information and then you read that, it's very genuine of who he is."