A Bears offense that has struggled in two of three preseason games received a major boost Monday, just 13 days before the team's regular-season opener in Houston.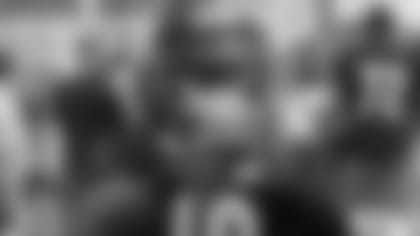 Wide receiver Eddie Royal during practice.


Tight end Zach Miller and receiver Eddie Royal practiced without restrictions for the first time since suffering concussions during the first week of training camp. Both had been working out on a limited basis before being cleared for contact Monday.
"We've had them out practicing," said coach John Fox. "We just had them out of contact. So I think their conditioning level is pretty good. We've got some timing and stuff like that in the passing game that needs to be worked on. But they've really not been on the shelf so-to-speak. They've been out practicing."
If Miller and Royal are held out of Thursday night's preseason finale in Cleveland, they would enter the regular season without playing a down of exhibition football.
Asked if he feel it's important for Miller and Royal to see some game action in the preseason, coach John Fox said: "Not particularly. I've had a lot of guys that are vets—not too many rookies—that maybe did not play. But we'll kind of monitor that.
"That's still always open. The fact that they're cleared now that makes them legit to be active and we'll make those decisions as we get closer to the Cleveland game."
Tough break: Connor Shaw's coaches and teammates were saddened to see the quarterback sustain a serious leg injury late in Saturday's preseason loss to the Chiefs. He exited after completing 5 of 6 passes for 68 yards with one touchdown and a 153.5 passer rating.
"Connor stepped in—regardless of circumstances or who was out there—and did a terrific job," Fox said. "I think he sparked or inspired the team, or how you want to look at it. It's just a really unfortunate injury. I think he's got a bright future here. We'll get him healed up and get him back out there."
Shaw appeared in each of the Bears' first three preseason games, connecting on 11 of 16 passes for 127 yards with two TDs, no interceptions and a 132.0 rating.
"The way that he came on from the first snap to his last snap, it was [maximum effort] and that's what you look for in a guy," said outside linebacker Willie Young. "I just hate to see a guy like that go down after coming in with that kind of fight. It's a tough break for him."
Back in action: Rookie linebacker Nick Kwiatkoski returned to practice Monday for the first time since injuring his hamstring July 30 in Bourbonnais.
Unfortunately for the fourth-round pick from West Virginia, he hasn't had much of a chance to show Bears coaches what he can do on defense or special teams.
"Truth be told, we didn't see a whole lot of him," Fox said. "Obviously, we evaluated him on his college tape, saw him in some of the offseason stuff. [But] he got hurt very early on in camp. It was a legit injury to his hamstring.
"He's been in meetings. He's been with us. But as far as our true evaluation, it's a little bit of a leap of faith. We'll kind of march down that road as we move forward."
Roll call: Offensive lineman Ted Larsen and outside linebacker Roy Robertson-Harris did not practice Monday due to illness. Defensive end Akiem Hicks was at Halas Hall, but he was excused from practice for personal reasons. Defensive end Cornelius Washington and tight end Ben Braunecker were limited due to injuries.