With a fastball over the middle bearing down on him Monday night in San Diego, Bears tight end Zach Miller did what any great home run hitter would do.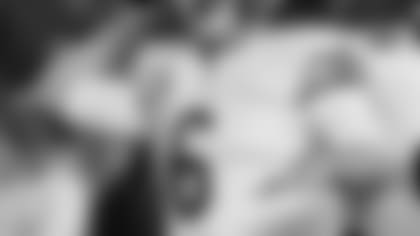 Jay Cutler threw the game-winning 25-yard touchdown pass to tight end Zach Miller who made an impressive one-handed catch.
"It's one of those things where instincts kind of take over," Miller said of his one-handed game-winning 25-yard touchdown reception from Jay Cutler against the Chargers.
"I really didn't have time to go with two [hands]. He put some juice on it and I had to go get it with one and thankfully pulled it down and made the play when it was needed."
Miller was not the primary target on the play.
"We were trying to go down the boundary to Alshon [Jeffery], but the safety flew over the top and it was just a matter of waiting for Zach to get around the linebacker," Cutler said. "I left the ball a little high on him and he made a heck of a catch.
"It couldn't have happened to a better guy. He gives everything he has at practice and we ask him to do a lot of dirty work and he does it all without complaining, so when he makes a big catch like that, it's pretty special."
Miller's touchdown, coupled with Jeremy Langford's two-point conversion run, gave the Bears a 22-19 lead with 3:19 left in the fourth quarter. The defense then stopped the Chargers before they could get into field-goal range, preserving the win.
The TD catch was Miller's first since a 14-yarder on Oct. 2, 2011 when he played for the Jacksonville Jaguars. Prior to this season, he had not appeared in an NFL regular-season game since 2011 due to a series of injuries.
Miller was selected by Jacksonville in the sixth round of the 2009 draft out of Nebraska-Omaha. After playing quarterback in college, he was immediately converted to tight end in the NFL. His only experience at the new position in college came in the Cactus Bowl, a Division II all-star game.
Miller spent the first six weeks of the 2012 season on injured reserve with the Jaguars before he was released. He then spent the 2013 offseason with the Tampa Bay Buccaneers, but was waived in late August.
Miller originally signed with the Bears on Dec. 30, 2013. He performed well in training camp and caught six passes for 68 yards and two touchdowns in a preseason-opening win over the Philadelphia Eagles. But he sustained a season-ending foot injury the following week in a preseason victory over the Jaguars.
So far this season, Miller has appeared in all eight games with five starts and has caught five passes for 58 yards—none bigger than his 25-yard TD Monday night.
"I just had to get to a spot where the throw was going to be made," Miller said. "I didn't want to get pushed too wide and lose leverage on the safety. Jay made a great throw. I just had to go get it."