Zach Miller traveled to St. Louis over the weekend for a free-agent visit with the Rams. But the veteran tight end ultimately followed his heart back to Chicago.
"For me, this is a comfortable place," Miller said on a conference call Tuesday morning after signing a two-year contract to remain with the Bears. "Personally, for me and my family, this is where we wanted to be. We've been here before."
Another key factor in Miller's decision to return was the chance to continue playing with quarterback Jay Cutler, who posted a career-high 92.3 passer rating last season.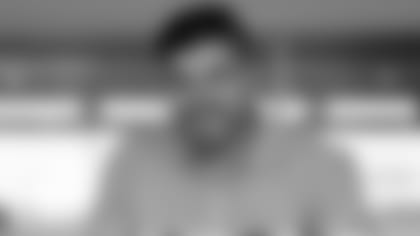 Zach Miller signs his two-year deal with the Bears.


"Family-wise was No. 1; my wife and kids being comfortable," Miller said. "Jay was No. 2, to be honest with you. To be able to play football with a guy like that at that position—elite arm, elite mental status that can make decisions—that was one of the biggest reasons."
Miller was also swayed by his belief that the Bears are an ascending team, thanks in large part to general manager Ryan Pace and coach John Fox.
"The type of franchise that the Chicago Bears are, the organization, the way that it's ran now, the way Ryan is moving forward with things and coach Fox's vision, it's just something that I really want to be a part of," Miller said. "I think the arrow is pointing up, and I wanted to be here."
Before agreeing to terms with the Bears Monday, Miller spent Sunday in St. Louis, where the Rams front office is still operating in advance of the franchise's relocation to Los Angeles. A couple other NFL teams also expressed interest in the 31-year-old.
A few years ago, it appeared that Miller would never cash in in free agency. After appearing in 33 games over three years with the Jaguars from 2009-11, he missed three full seasons due primarily to injuries before having a breakout year with the Bears in 2015.
Miller established career highs in all receiving categories last year with 34 catches, 439 yards and a team-leading five touchdowns, earning him the first lucrative free-agent contract of his career.
"I was just thankful," Miller said. "It's a long journey; a really good one. There's been ups and downs. But I'm just real thankful for the opportunity to continue my career here.
"It started a couple years ago with the old regime and Phil [Emery], and for Ryan to carry that on and give me another opportunity after a serious injury and then just working on a daily basis to continue to grind and really get that opportunity, it just worked out well, and I'm thankful for how the whole thing played out."
Miller spent the 2012 season on injured reserve with the Jaguars, failed to make the Buccaneers roster in 2013 and landed on IR again with the Bears in 2014. After that tumultuous stretch, he hopes to have the same success in 2016 that he finally experienced in 2015.
"I was happy to stay healthy," Miller said. "It was comfortable, where the prior years, it was just bad luck, nothing I was doing wrong. I was always in shape, felt strong.
"Now the goals moving forward and just to build on it. The last half of the season was very successful for me from an individual standpoint. I want to continue that, want to build on it. I know the vision that Ryan and coach Fox have, how they'll delegate things. I feel like they've put some pieces together and it's exciting to be a part of it."
Miller played quarterback at Nebraska-Omaha and was immediately converted to tight end when he entered the NFL. Given Martellus Bennett's uncertain future with the Bears, there's a chance that Miller could start at his adopted position in 2016.
"I feel like if you look at my career and my history as an athlete and as a quarterback, I'm very comfortable being a leader," Miller said. "It's one of the natural things that I've felt. I've done well throughout my college career. I didn't have the opportunity to really step in and be a leader yet throughout my professional career but it's growing.
"However things play out with Marty is how they play out. That's out of my control and out of his control. He's a special player and a special person to be around. It's not up to us. However it plays out, I'm ready to fill whatever role is needed."