One of the most pleasant surprises of last year's training camp, Bears fifth-round draft pick Jordan Mills earned the starting job at right tackle and proceeded to open all 16 games.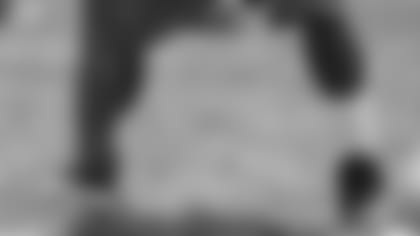 Jordan Mills started all 16 regular season games last year as a rookie.
As he begins his second NFL camp, Mills is far from satisfied, saying that he's determined to "perfect my craft and get better at everything, and not get complacent about anything."
"I want to become great at everything and just help my teammates," Mills said, "be with my brothers on the O-line protecting Jay [Cutler], opening holes for Matt [Forte], and getting Brandon [Marshall], Alshon [Jeffery], Marquess [Wilson] and Martellus [Bennett] enough time to get open and just have fun this year."
Entering camp, Mills insists that he's fully recovered from a broken foot that he sustained in last year's season finale against the Packers, an injury that forced him to miss part of the offseason program.
"The trainers had to slow me down," Mills said. "They put me on a treadmill and I was going at a thousand percent. But my mind said after I had surgery that I was going to do whatever I had to do to get back on the field. I didn't favor it at all and it's like I never broke it."
Stronger and faster: In preparation for his first NFL training camp, undrafted rookie running back Jordan Lynch dropped 15 pounds, weighing in Wednesday at a svelte 205 pounds.
"I was really watching what I eat, cut my calories in half, and I feel stronger and faster," said Lynch, a star quarterback at Northern Illinois.
Lynch also returned to NIU to do position drills with the Huskies' running backs. On Friday, the Chicago area native will begin his quest to earn a roster spot with his hometown team.
"First pro camp, I'm anxious," Lynch said. "I'm going to learn as much as possible and I'm going to try to help the team out, so I'm going to go in there, really be a film rat, a film junkie, get in the weight room, keep in shape and just compete."
Fast and furious: The day before their first training camp practice, the Bears conducted their annual conditioning test Thursday in Bourbonnais.
"It was great," said defensive end Lamarr Houston. "Everybody finished and everybody was in shape. Coach [Marc] Trestman was impressed and so was our strength staff, and we looked good as a team."
Never satisfied: Bears general manager Phil Emery likes the 90-man roster he has constructed heading into training camp. But that doesn't mean he'll ever stop trying to improve it.
"I like the level of competition," Emery said, "but I will say this about any and all positions: We're not going to stop looking for players. We're not going to sit here in camp and say that we're set because we're not. We claimed David Bass off of waivers last year and he helped us win a game."
Bass, a defensive end from Missouri Western State, was selected by the Raiders in the seventh-round of last year's draft. After failing to earn a spot on Oakland's 53-man roster, he joined the Bears Sept. 1 and later returned an interception 24 yards for a touchdown in a win over the Ravens.
Sad news: Emery opened his press conference Wednesday at training camp by offering condolences following the death Monday of Winona State offensive lineman Shawn Afryl.
A Skokie native who graduated from Niles West High School and the University of Illinois with a degree in political science, Afryl died while working out with teammates at Winona State, where he planned to use his final year of college eligibility.
"We want to send our hearts and condolences as a team, from one family to another, for Shawn Afryl, his family, friends and teammates who play for Winona State," Emery said. "Just want his folks out in Skokie to know that the Chicago Bears care about him and are thinking about them."