The Bears sported a new look on their offensive line Monday when they returned to practice following their bye week, with Jordan Mills at left guard and Michael Ola at right tackle.
Mills had started all 23 games at right tackle since arriving as a fifth-round draft pick last year before missing the Oct. 26 loss to the Patriots with a foot injury. Ola replaced Mills in New England just as the rookie did during the preseason when Mills was sidelined with a similar injury.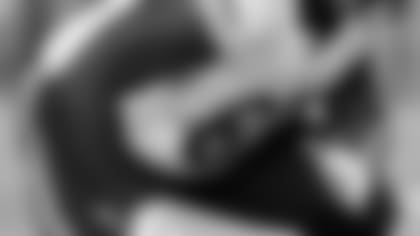 Jordan Mills has started 23 games at right tackle since joining the Bears last year.
"Mike has been playing there; that's No. 1," said coach Marc Trestman. "He's starting to get comfortable in that position. We haven't locked in anything. We did work Jordan at guard today and thought it went well for the first time around.
"He's a versatile athlete. He's got strong hands. He's obviously a large man, and again the integrity of the pocket is so important having a man of that size to be able to hold it down is something we want to look into, so that's where we are today."
The Bears have a hole to fill at left guard after losing veteran Matt Slauson for the rest of the season with a torn pectoral muscle against the Patriots.
"My team needs me to play a [new] position and I'm going to do it," Mills said. "It's not about me. It's about the team. So whatever I have to do to help the team I will do it."
The Bears are confident that the 6-5, 316-pound Mills possesses the attributes to play guard.
"He has all the skill set to be able to do that," Trestman said. "He's big, strong. He's got long arms. He's quick. Normally a player playing at the tackle position is generally as athletic a player as you have in the offensive line, so to move him inside and still have that skill set, he's got all the tools necessary to play the position certainly, and we're going to take a good look at it."
After facing speedy and athletic defensive ends in space at tackle, Mills will have to adjust to battling strong and mammoth defensive tackles in close quarters at guard.
"It's more sudden and quicker contact," Mills said. "Like coach Trestman likes to say all the time, there's going to be imminent contact. It's different. You have a 300-pound-plus dude in a three technique right there in your face, so that's something I've got to get used to."
Veteran left tackle Jermon Bushrod knows that Mills will have to alter his game at guard.
"It's going to be important for him to just get in there at practice and get as many reps as he can," Bushrod said. "It's going to take some adjustment. It's not going to be an easy transition. But with the coaches we have and the guys we have on the line, we'll do our best to get him caught up on our terminology here on the left side and just how things need to be done at the guard level.
"Things happen a lot sooner [inside]. You've got to play a little heavier. But the good thing about Jordan is he's a strong-handed powerful young man who will be able to adapt."
If the Bears line up Sunday night in Green Bay the way they did Monday in practice, it will mark their sixth different offensive line combination in nine games this season. Last year they were one of only three NFL teams to open all 16 games with the same five players. So far this season Ola has started six games at left tackle (2), left guard (3) and right tackle (1).