BOURBONNAIS, Ill. — The right side of the Bears' starting offensive line sported a new look in Sunday's practice with a pair of rookie draft picks working side-by-side.
Fifth-round choice Jordan Mills replaced four-year veteran J'Marcus Webb at right tackle, while first-round selection Kyle Long worked at right guard. The second-team offense featured Webb at left tackle and five-year veteran Eben Britton at right tackle.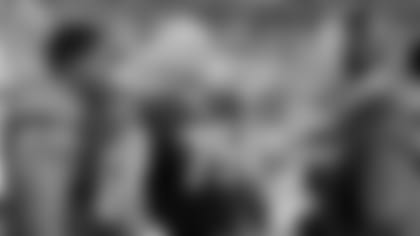 Rookie linemen Jordan Mills and Kyle Long chat with offensive coordinator Aaron Kromer during the Bears' preseason opener against the Panthers.
"This has been part of our plan," said coach Marc Trestman. "I wanted to get Kyle in there to get some work with the 'ones' and Jordan as well. We need J'Marcus to get over there and work as a backup at the left tackle position and we think Eben is in better position to back up on the right side and get some work there and keep it competitive.
"So I wouldn't draw any conclusions about what's happened [Sunday]. It really is part of our plan to find the best five over the course of training camp and in Week 2 [heading into] the second [preseason] game this is the way that we're starting. We're not doing anything but working the plan at this point in time."
Trestman said last week and reiterated following Friday night's preseason opener that Webb must play with more consistency. The 6-7, 333-pounder was beaten for a sack in the first quarter of the game by Panthers defensive end Charles Johnson.
Asked after practice Sunday whether a message was being sent to Webb by demoting him to the second team, Trestman said: "I don't think that would be fair. I think we've been very clear with J'Marcus about what we're doing.
"I said last week that there's been an up-and-down performance level by J'Marcus, but we were still going to do this. We were still going to give work to the other guys and see what they could do as well. So we'll evaluate it. We're going to go through the week like this."
Mills is expected to take the majority of first-team reps at right tackle in practice this week leading up to Thursday night's preseason game against the San Diego Chargers at Soldier Field.
"We think he's performed well on a daily basis and we want to see what he can do playing against 'ones' throughout the week without moving him around," Trestman said. "He'll get some work in other places and be with the 'twos' at times when others are with the ones, but we're going to give him much of the work against our No. 1 ends."
Mills was a four-year contributor at Louisiana Tech. After playing in seven games with five starts at left guard as a freshman in 2009, the 6-5, 316-pounder moved to right tackle in 2010. He started all 13 games in 2011 and all 12 contests in 2012, earning All-WAC first-team honors as a senior.
Mills was told during a team meeting Sunday morning that he was going to practice with the starting unit.
"It was unexpected, but you've got to be ready in the NFL if somebody goes down or you want to make a switch out you have to be prepared and ready, and I was prepared and ready," he said.
"It's a great opportunity. It's humbling, having Roberto Garza, J'Marcus Webb, [Jermon] Bushrod, Matt Slauson, the whole offensive line helping me. It's been great working with them. In my eyes, these dudes are all Hall of Famers, so just to be here is so humbling."
Mills enjoyed lining up next to Long, whom he first bonded with at the NFL Scouting Combine.
"He's a very intelligent dude with a personality," Mills said. "Something might go wrong, but he's going to say something to make everybody laugh and bring our spirits up, so he's a great guy to play next to."
"Since we've been working together a lot with the 'twos' and 'threes,' it was a good transition," Long said. "I think they're just trying to throw us in there and see what we can do. It was a lot of fun today to go against the 'ones,' see some different faces, just another day to try and get better."