After shuffling the offensive line during the week, Marc Trestman announced Friday that Jordan Mills will start at right tackle and Michael Ola will open at left guard Sunday night in Green Bay.
"We think that's in the best interests of our team right now," the Bears coach said after practice. "Michael has moved around. Jordan has been in that position for a long time and he's healthy and ready to go and has played well. That's the way we'll go."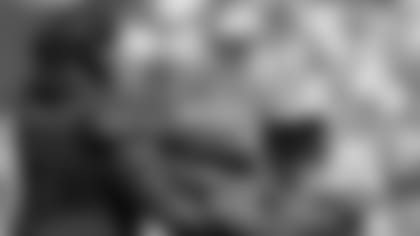 Jordan Mills blocks Julius Peppers during the Bears' Week 4 loss to the Packers at Soldier Field.
A versatile rookie who played for Trestman in the CFL, Ola has started six games at three different positions so far this season. He has replaced injured starters Matt Slauson at left guard in Weeks 2-4, Jermon Bushrod at left tackle in Weeks 5-6 and Mills at right tackle in Week 8.
Ola will line up at left guard again Sunday night against the Packers in place of Slauson, who was lost for the season with a torn pectoral muscle in the Bears' last game Oct. 26 in New England.
Mills has made all 23 of his NFL starts at right tackle since joining the Bears last year. He will remain at the position despite getting some reps at left guard this week in practice.
"If they would have [announced] I was playing left guard I would feel the same way—ready to play," Mills said. "I'm going to be at my normal position, but if they need me to play left guard I'll play left guard. Anywhere I can help my team succeed I'm going to play."
Aches & pains: After injuring his ribs this week in practice, tight end Martellus Bennett did not work out Friday and is listed as questionable, meaning there's a 50 percent chance he'll play.
"We'll see," Trestman said. "We really don't know right now. He's been inside today getting treatment. We're hopeful he'll play. We'll see what happens."
Bennett ranks second among NFL tight ends with 47 receptions, fourth with 517 receiving yards and is tied for fifth with five touchdown catches. If he is unable to play, he would be replaced by eight-year veteran Dante Rosario, who has nine receptions for 70 yards this season.
"We've got a lot of faith in Dante and the things that he can do," Trestman said. We know the value that Marty has—we're not underestimating that at all—but we'll see. We're going to do the best we can. We're not going to make excuses for it. We're hopeful Marty can play."
Rookie steps in: With offensive lineman Eben Britton ruled out of Sunday night's game after undergoing an appendectomy, rookie tackle Charles Leno Jr. Jr. is expected to serve as an eligible sixth lineman on some plays, a role that Britton has filled the past two seasons.
"Charles Leno will be in a position to handle that, so we'll move him into that position," Trestman said. "He'll be up, so that shouldn't take away some of the things that we're doing in that regard."
Selected by the Bears in the seventh round of this year's draft out of Boise State, Leno has been active for one game this season but has yet to play.
Packers injuries: Green Bay's starting guards, T.J. Lang (ankle) and Josh Sitton (toe), are both questionable for Sunday night's game. The Packers did not practice Friday, but Lang and Sitton were both put through a workout.
"They both completed it," said Green Bay coach Mike McCarthy. "The workload they were asked to do, they exceeded it. That part went well. Their evaluation [Saturday] is the next step we have to get through."
Speaking to reporters Friday in Green Bay about his sore toe, Sitton said: "I have to see how it feels tomorrow. It's still a little swollen up. We have to see how it reacts to the workout today. That was part of the reason we did the workout today, so we could see how sore it is tomorrow and go from there."