Despite missing all four preseason games with a foot injury, right tackle Jordan Mills has no doubt that he'll be able to start Sunday's season opener against the Buffalo Bills.
"I'm very ready," Mills said Monday after practice. "For the past four or five days I've been getting good work. Even when I was out I was getting good work with [strength and conditioning coordinator] Mike Clark and in the training room, so I'm very prepared."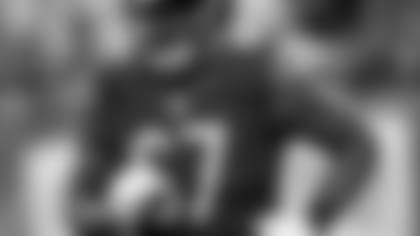 Jordan Mills
Selected by the Bears in the fifth round of the 2013 draft out of Louisiana Tech, Mills started all 16 games as rookie. He broke his left foot early in the season finale against the Packers and then reinjured it in training camp, sidelining the second-year pro for two weeks.
Mills returned to practice Aug. 20 and likely could have played in last Thursday night's preseason finale against the Browns. But the Bears held all of their starters out of the game.
Asked how much catching up he feels he needs to do, Mills said: "Not that much because every rep they were doing I was doing behind them even though I had the boot on. [Head trainer] Chris Hanks was behind me giving me that look like he was going to jump on me like a jungle monkey if I step one more time.
"But when I had the chance to get work in and run and lift heavy and get quality reps in I was getting it. So I don't feel that I'm that far behind. We have a great defense that I go against every day that makes us better. So it's like playing a game every practice."
Mills is confident that the Bears offensive line will pick up against the Bills where it left off last year when the five-man unit remained intact for the entire season.
"I don't think it's that much of a concern because we were all together for 16 games last year even though I broke my foot [in the season finale]," Mills said. "It's like riding a bike. You never forget how to ride it. I had to knock a little rust off. But once I got back in, it was like I never left."