Will Montgomery is much more than a center for the Bears. Having played for the Denver Broncos last season, the 6-3, 304-pounder is also an extension of the new coaching staff.
Montgomery's head coach (John Fox), offensive coordinator (Adam Gase) and offensive line coach (Dave Magazu) in Denver all joined him in making the jump from the Broncos to the Bears this season.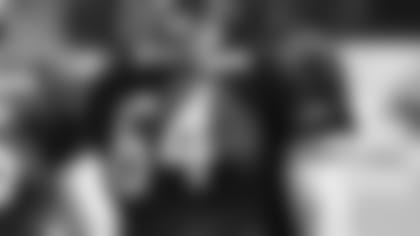 Center Will Montgomery has played for coach John Fox with three NFL teams.
"It was a package deal," Montgomery joked. "They weren't going to accept their jobs unless I came too."
While that may not necessarily be true, it's no coincidence that Montgomery was signed by the Bears.
"He's familiar with the system," Fox said. "There's a lot to the center. He's kind of the quarterback of the O-line. So we know how he fits that way and what his demeanor is. That's why a lot of coaches and staffs move around and bring players with them they're familiar with. He's adapted well. I think he's helped the growth of our offensive line with that knowledge of the system."
Montgomery is actually on his third different NFL team with Fox, having appeared in six games with four starts with the Carolina Panthers as a rookie seventh-round draft pick in 2006.
Before joining the Broncos last year, Montgomery played for the New York Jets (2007-08) and Washington Redskins (2008-13), starting all 16 games in each of his final three seasons in Washington. He arrives in Chicago having appeared in a total of 106 games with 71 starts over 10 NFL seasons.
Having signed with the Bears in April, Montgomery is making a smooth transition thanks to his knowledge of the coaching staff and the offense.
"Definitely it's helpful that I was with Denver last year," he said. "I'm familiar with all of the calls and the schemes. I have some new guys around me and they've [welcomed] me with open arms from Day 1."
Teammates like having a resource like Montgomery on the field with them.
"He's been around the block and he knows this offense like the back of his hand," said quarterback Jay Cutler. "He's helping us learn, teaching us as we go."
"He's so well versed in this offense," added guard Kyle Long. "He's somebody that can really break it down for you and put it in layman's terms."
Gase also appreciates the assistance that Montgomery has provided, especially disseminating information.
"Will absolutely makes things a lot easier on me," Gase said. "I have a lot less explaining to do. I can say something and he takes it and runs with it."
Last season Montgomery started the Broncos' final eight regular-season games and their playoff loss to the Indianapolis Colts. Asked what he likes most about Gase's offense, he said: "I like that it's so balanced. We can run inside, outside, we can run power, iso, we can throw the ball downfield, short routes. I don't think we lean heavily in one direction. I think we can really do it all."
Montgomery is happy to help teammates learn the new system, but he didn't enter training camp expecting to be the offensive line's primary leader.
"I think right now [Matt] Slauson has been around the longest, so I think he's taken over as the guy who everybody follows around right now, and you can't miss that beard," Montgomery said. "That beard has a lot of things with it too and a lot of food in there too sometimes.
"I'm not trying to force anything. I'll point guys in the right direction and if they have questions I'll answer them and just kind of go about my business."