This space is usually reserved to address four things we learned in the most recent Bears game. Unfortunately, it was just more of the same mistakes in Thursday night's loss to the Cowboys.
As has been the case most of the season, the offense was plagued by penalties, costly turnovers and the inability to put points on the board. The defense allowed the Cowboys to score on seven straight possessions with five consecutive touchdowns followed by two field goals.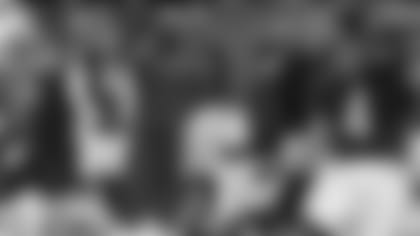 Jay Feely's extra point attempt is blocked by the Cowboys' Barry Church Thursday night.
On special teams, the Bears had a punt and extra point attempt blocked and continued to commit mistakes that resulted in penalties.
"We have some young guys who have to learn how to play the game better," said coach Marc Trestman. "We got beat on two kicks; no doubt about it. We flat got beat on it. We've got to be stronger in holding those things up, and those are the things we've got to continue to go back and work on."
If there was a turning point in the 41-28 loss it came on the opening possession of the second half. With the Bears trailing 14-7, running back Kyle Long caught a short pass on third-and-eight and picked up 21 yards. But Cowboys defensive end Anthony Spencer ripped the ball away from Forte and cornerback Sterling Moore returned the fumble 17 yards to the Chicago 31.
Three plays later, Tony Romo's 24-yard touchdown pass to Cole Beasley gave the Cowboys a 21-7 lead. Dallas added two more TDs to widen their margin to 35-7 entering the fourth quarter.
"We only hurt ourselves during the game," Trestman said. "It was a 14-7 game. We had a fumble. They responded with a touchdown. We had a blocked kick. They responded with a touchdown. So those are things that were our own doing and not the doing of the team that we played although the team that we played was an excellent football team.
"What our guys see is if we can take care of our own business we can be in any game in the fourth quarter, and we didn't do that [Thursday]."
The self-inflicted wounds included nine penalties for 54 yards. Left guard Michael Ola was flagged for holding early in the third quarter, nullifying Jay Cutler's 7-yard pass to tight end Martellus Bennett on third-and-five and eventually leading to a punt.
On special teams, the Bears went offside twice on onside kicks and Senorise Perry was flagged for illegal touching when he downed a punt after running out of bounds.
"We had too many penalties," Trestman said. "It covered all three phases of our football team and debilitated our team dramatically against a team that doesn't make those kinds of mistakes.
"Right now we can only control what we can control, and we haven't done a good job on our part of being able to play well doing things that we're capable of controlling. Those are the little things during the course of games that set you back. In all three phases, we haven't done that."
The Bears have drawn 91 penalties in 13 games this season and are on pace to finish the season with 112 after drawing 85 flags all of last year.
"It's difficult to pinpoint [the problem] because it's never the same person," Trestman said. "That's been the most difficult thing. Yesterday, the big setback was we had a holding penalty after a first down on the second series … that set us back to third-and-15 and put us in a position where we couldn't recover. Those are the things we can control.
"As I said, it's been no one particular guy. And it's predominantly the same group of guys [on offense] we had a year ago. There's really no one thing you can put your hand on regarding that. You just have to continue to go back and work on those things during the course of the week."